Since I moved to the US sometime in 2007, I have been obsessed with the idea of pairing some of my favorite wines (and of course that includes sherries) with the most traditional American 'comfort food'. Hopefully, you will agree with me that if you were to rank some of the most popular all-over-the-nation dishes, the fan-favorite Mac n Cheese should almost always make it to the top 10, right? But, what is the best wine with mac n cheese?
This month of October is not only when the world  is full of excitement and ready to celebrate the upcoming Sherry Week, but it also was National Pasta Day on Sunday the 17th. We found no better excuses to revisit one of our dearest pairings; older fino styles [delicate amontillados] with Mac n Cheese. While doing some research for this post we came across this article from 2012. We can't be more in line with everything that is being described in this text. Brilliant sommelier Ashley Santoro nailed it once again pairing wine with macaroni and cheese!
Reading time: 2 Minutes
Author: Lucas Payá
Date: 08/05/2023
Category: Pairings
It's that time of year again, when the cold starts to break and warmer weather gradually begins to grace us with its presence.As the seasons change, we often seek out and welcome food and drink that reflects our surroundings.When things start to heat up, our desire for beverages that quench our thirst and cool us off grows exponentially with the increase in temperature.In a world filled with slushies and punches, there is one classic cocktail that has been helping us usher in Spring and Summer for centuries: Sangria

https://lustau.es/wp-admin/admin-post.php?action=purge_cache&type=post-15050&_wpnonce=24b84c7ab9
<strong>Tiempo de lectura:</strong> 6 Minutos<strong>Autor:</strong> Steven Dragun<strong>Fecha:</strong> 03/24/2023<strong>Categoría:</strong> Cócteles

PAIRING: AJO BLANCO
Full Ingredients list
1 lb. dried elbow pasta
1/2 cup unsalted butter
1/2 cup all purpose flour
1 1/2 cups whole milk
2 1/2 cups half and half
4 cups grated medium sharp cheddar cheese divided (measured after grating)
2 cups grated Gruyere cheese divided (measured after grating)
1/2 Tbsp. salt
1/2 tsp. black pepper
1/4 tsp. paprika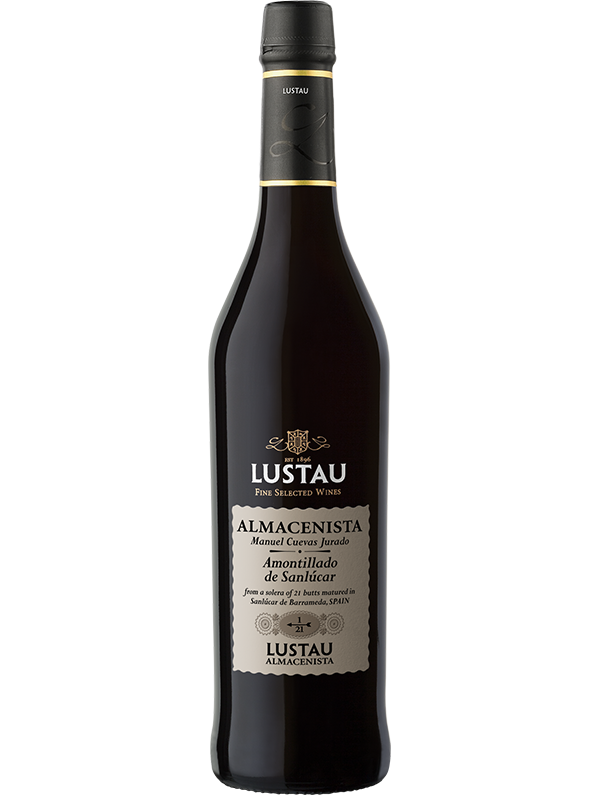 BEST WINE TO PAIR WITH MAC N CHEESE: A LIGHT AMONTILLADO SHERRY
Some publications pick off-dry white wines, fruity reds or even sparkling wines to go with this classic American dish. We encourage you to go the next step… the sharp and salty flavor of cheddar cheese along with the richness of the sauce works wonderfully with a light amontillado sherry style. Broiling extra shredded cheese on top will only make it a better pairing, you can't go wrong here!
BEST SHERRY TO PAIR WITH MAC N CHEESE
We love a delicate amontillado wine to pair with Mac n Cheese. Lustau Almacenista Amontillado de Sanlúcar from a solera of twenty-one casks is a perfect example.
MACARONI AND CHEESE WITH SHERRY RECIPE
Now, if you aim for perfection, we suggest adding a few drops of the wine in the sauce. A quarter of an ounce will be sufficient to give the sauce a boost of complementing flavor. Give it a try! We love this recipe and its variations from the www.thechunkychef.com. 
Boil the pasta, drain.
Make the cheese sauce by combining a fat (butter), and starch (flour), then whisking in the milk products.
Cook the sauce until it's nice and thick.
Add in shredded cheeses, stir well.
Combine cheese sauce with cooked pasta.
Transfer half of the mac and cheese to a baking dish, sprinkle with more shredded cheese.
Top with the rest of the mac and cheese, top with more shredded cheese.
Bake and prepare to thoroughly enjoy!
FAQ
How long does it take to bake mac n cheese?
It takes about 30 minutes to bake mac n cheese. Broil it at the end of baking for approximately 2-5 minutes for a crunchier version of mc n cheese.
What color is macaroni and cheese?
Mac n cheese should look between yellow and orange.