Yet again, we have found another fun celebration on the National Day Calendar. On August 2nd the US observed its National Ice Cream Sandwich Day. According to their website: "The original ice cream sandwich sold for a penny in 1900 from a pushcart in the Bowery neighborhood of New York City. Newspapers never identified the name of the vendor in articles that appeared across the country. However, ice cream sandwiched between milk biscuits became a hit. Soon, pushcarts popped up around the city and later the country during the summer months selling these portable treats. Early pictures show beachgoers at Atlantic City getting their ice cream sandwiches for 1¢ each."
The variations are endless with many countries offering their own preferences as to the type of ice cream and the "sides" used: biscuits, wafers, cookies, or even buns! Among others. There are countless brands of ready-to-go products sold in local supermarkets all over the US, but as you know, we love our homemade options. This time, our discussion centered mostly on the flavor in the ice cream itself, as we looked for a combination to elevate the creamy, crunchy, and nutty texture to the heavens… and here you are, Pistachio Ice Cream Sandwiches! Check out this recipe by thefeedfeed.com.
Reading time: 3 Minutes
Author: Lucas Payá
Date: 08/05/2023
Category: Pairings
It's that time of year again, when the cold starts to break and warmer weather gradually begins to grace us with its presence.As the seasons change, we often seek out and welcome food and drink that reflects our surroundings.When things start to heat up, our desire for beverages that quench our thirst and cool us off grows exponentially with the increase in temperature.In a world filled with slushies and punches, there is one classic cocktail that has been helping us usher in Spring and Summer for centuries: Sangria

<strong>Tiempo de lectura:</strong> 6 Minutos<strong>Autor:</strong> Steven Dragun<strong>Fecha:</strong> 03/24/2023<strong>Categoría:</strong> Cócteles

PAIRING: ICE CREAM
Full Ingredients list
1 cup unsalted shelled pistachios, (raw or roasted)
1 cup granulated sugar
1 large egg
1 teaspoon kosher salt
1 1/ 2 pints natural pistachio ice cream
1/ 4 cup shelled pistachios, coarsely chopped (optional)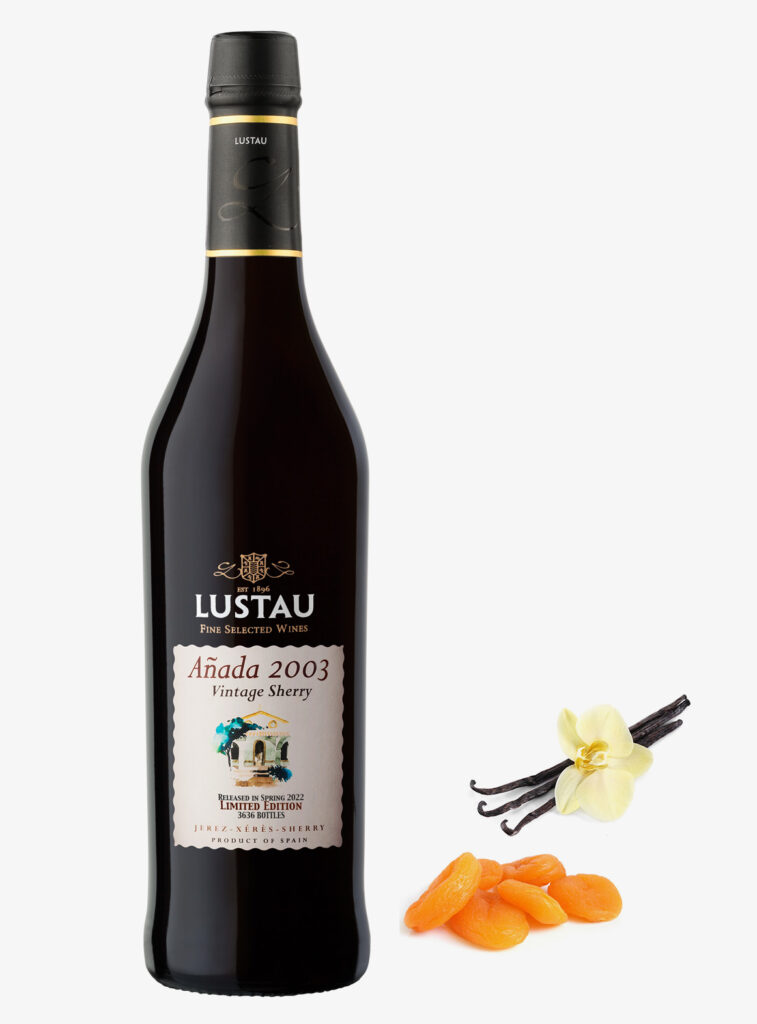 WHY SWEET SHERRY IS THE BEST TYPE FOR ICE CREAM
What style of sherry do you think would suit this delicious indulgence? A dessert wine will probably be the safest bet, and Lustau produces a good number of sweeter wines, but we also think this could be a great opportunity to feature something truly special. Sometimes the highest-quality, most complex wines show their best when enjoyed with purer, straightforward, flavors. This may be one of those occasions to acquire that super rare bottle you have been dying to try one day.
ABOUT LUSTAU AÑADA 2003
Lustau Añada 2003 is one of the most unusual sherries out there: 1st, it is extremely limited (3,636 bottles total), 2nd it is 'Vintage', and 3rd it is a sweet wine made from late-harvested 100% Palomino grapes! If that did not sound tasty enough, you may want to know that the wine was also aged in cask for 19 years, just to be finally released in Spring 2022 when the wine reached its peak. Convinced yet?
ICE CREAM SANDWICH RECIPE
Preheat the oven to 325F degrees. Line two baking sheets with parchment paper.
Blitz 1 cup of pistachios, granulated sugar, egg, and kosher salt in the bowl of a food processor until it forms a paste.
Scoop dough with a 2-tablespoon cookie scoop, then flatten with a lightly greased drinking glass or measuring cup to about 1/4″ thick and freeze the dough for 15 minutes.
Arrange chilled dough on a prepared baking sheet 4″ apart. Bake until light golden brown around the edges but still a bit gooey in the center, about 14 minutes. If cookies spread into irregular shapes, you can punch out the dough with a large cookie cutter or nudge the edges back into place to make perfect circles as soon as they come out of the oven. Allow cookies to cool completely on the baking sheet before removing.
Sandwich a large scoop of pistachio ice cream between two cookies (making sure the bottom edge of each cookie is toward the center), then roll edges in chopped pistachios, if desired. Transfer each ice cream sandwich to the freezer before starting the next. Freeze for at least 1 hour to set completely, then allow to sit at room temperature for 5 minutes before eating. Store in an airtight container in the freezer for up to 2 months.
Note: the cookie dough can be scooped using a 1-tablespoon scoop to make 8 smaller sandwiches, just adjust the baking time to about 10 minutes. The dough spreads considerably in the oven, so be sure to give the cookies plenty of space on the baking sheets. Throwing some chocolate chips into the mix (after step 2) will add extra complexity to the cookies.
When the texture in both the ice cream sandwich and the wine is contrasted on the palate… this could well be the match of the season, a genuinely heavenly experience. Let us know!