If you ask your doctor or dietitian, he or she will very likely tell you that eating a range of fruits provides the body with nutrients and antioxidants that can boost overall health and reduce the risk of disease. Fruits are an excellent source of essential vitamins and minerals, and they are high in fiber. Fruits also provide a wide range of health-boosting antioxidants, including flavonoids. Eating a diet high in fresh fruits can reduce a person's risk of developing heart disease, cancer, inflammation, and diabetes. Citrus fruits and berries may be especially powerful for preventing disease. At the end of this sentence, you'll find a complete list of benefits when having a balanced diet that regularly includes fruits (and vegetables), by the prestigious Harvard University.
But are there fruits that are healthier than others? Certainly, not all fruits contribute the exact same amount of nutrients and calories, here is a selection of some of the most beneficial and why. There is so much to choose from that is nearly impossible someone will not like at least one of them. What about sugars? Fruits contain natural sugars, meaning the sugar was never added and occurs in nature. Most of the time, the problem surges when we confuse fresh fruits with packed fruit juices, which contain added sugar. When seeking to limit sugar intake, added sugars are surely more of a concern.
Friends, fill your fridges with beautiful summery fresh fruits!
Reading time: 5  Minutes
Author: Lucas Payá
Date: 01/08/2023
Category: Pairings
It's that time of year again, when the cold starts to break and warmer weather gradually begins to grace us with its presence.As the seasons change, we often seek out and welcome food and drink that reflects our surroundings.When things start to heat up, our desire for beverages that quench our thirst and cool us off grows exponentially with the increase in temperature.In a world filled with slushies and punches, there is one classic cocktail that has been helping us usher in Spring and Summer for centuries: Sangria

<strong>Tiempo de lectura:</strong> 6 Minutos<strong>Autor:</strong> Steven Dragun<strong>Fecha:</strong> 03/24/2023<strong>Categoría:</strong> Cócteles

PAIRING: LUSTAU MOSCATEL EMILIN
Full Ingredients list
7 raspberries
7 hulled strawberries
7 tangerine segments
7 cubes peeled mango
7 peeled pineapple chunks 
7 peeled kiwi fruit chunks
7 green grapes
7 red grapes
14 blueberries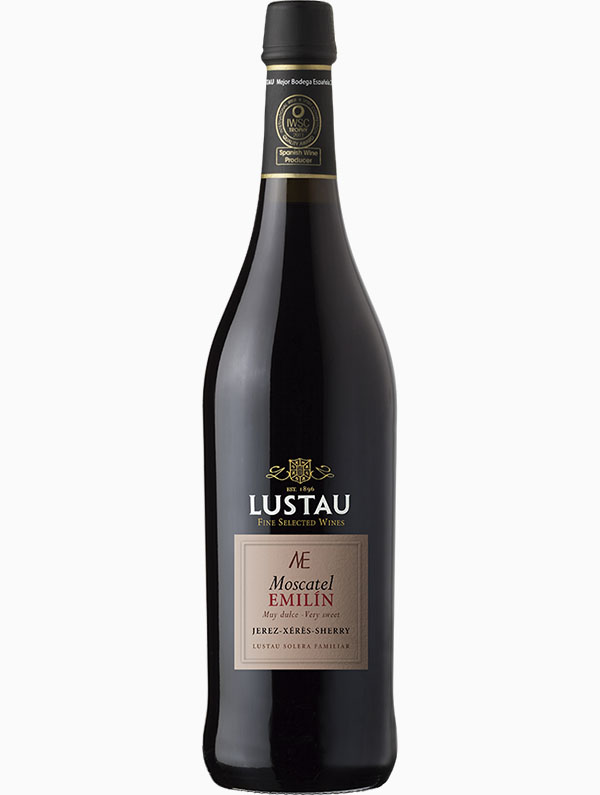 HOW TO CUT YOUR FRUIT FOR A RAINBOW FRUIT SKEWER?
As we mentioned above, you may have your own preferences for fresh fruits, and not all of them have the precise same effect on our bodies. Now, to create an eye-catching, glowing rainbow you will want to mix and match an ample choice of various types and come up with a colorful fruit plate, ready to be consumed bite after bite. To that end, the skewers should be loaded with a disparate assortment, regardless of your personal taste. Keep in mind, that the many possibilities of size, shapes, and textures will mean all sorts of slicing, cutting, peeling, or washing (to name a few) before starting threading along. A couple of valuable techniques and ideas for how to cut your fruit, and assemble some handsome rainbow fruit skewers, can be watched here. The recipe posted below can be found on this website.
BEST WINE TO PAIR WITH RAINBOW FRUIT SKEWERS?
Sherry? Yes! The question is what style, and once again, we find ourselves before the extensive number of options that the Jerez region gives us. Many of the dryer styles of sherry (perhaps less so biologically aged examples) can well turn a fruit and wine pairing experience into a lot of fun. But, today , we are going for one of the most classic food and sherry combinations there are. Fresh fruit and moscatel!
WHY LUSTAU MOSCATEL EMILIN IS THE BEST WINE TO PAIR WITH FRUIT SKEWERS
The moscatel is one of the sherry grapes (usually late-harvested) with pronounced fruity notes typical of this kind of grape which has a greater aromatic personality. The moscatel vineyards are close to the beach in sandy soils with a considerable maritime influence. Lustau is probably the most prominent moscatel grower, with around 25 Ha of moscatel planted in a very pure "arena" soil, less than 3 Km (5 miles) from the Atlantic Ocean.
Take a look to viña Las Cruces and learn the basic aspects of this unique and one of a kind vineyard with this mini virtual tour.
Moscatel sherry wines have a residual sugar content of 160 grams or more, tons of fruitiness and fragrant flavors, and a balancing racing acidity. They are a killer alternative for fruit and fruit-based desserts. The official web of the Consejo Regulador states: "Moscatel makes the ideal combination for pastries and desserts which are not excessively sweet, based on fruit and ice cream." Savoring a glass of moscatel sherry with a variety of fresh fruits is one of the fastest ways to reach glorious synergies. Try this Lustau Moscatel Emilín.
Lustau Moscatel Emilín differs from most wines made of moscatel in the region due to the amount of time grapes spend in the vineyard before being crushed, pressed and fermented. Most of moscatel wine produced in the region is generally sundried (through the process of "soleo" like pedro ximénez variety to ensure a very high level of sweetness and concentration. To craft Emilín, grapes experience a late harvest. They are about a week after they reach the perfect balance between natural sugars and acidity. This subtle difference in how the grape is treated will provide a huge different in character and personality, ending in a very light, fresh and balanced moscatel. A very rare expression, even in the region!
HOW TO PREPARE THE PERFECT SUMMER RAINBOW FRUIT SKEWER
Take 7 wooden skewers and thread the following fruit onto each
1 raspberry, 1 hulled strawberry, 1 tangerine segment, 1 cube of peeled mango, 1 chunk of peeled pineapple, 1 chunk of peeled kiwi, 1 green and 1 red grape
Finish off with 2 blueberries
Arrange in a rainbow shape and let everyone help themselves.