Who has not seen or tasted sushi, yet do you know what is sushi? Its popularity has exploded in recent years and is even now found at dedicated grocery areas.
Wikipedia sums it up best: "Sushi (すし, 寿司, 鮨, 鮓, pronounced [sɯɕiꜜ] or [sɯꜜɕi] i) is a Japanese dish of prepared vinegared rice (鮨飯, sushi-meshi), usually with some sugar and salt, accompanied by a variety of ingredients (ねた, neta), such as seafood—often raw—and vegetables. Styles of sushi and its presentation vary widely, but the one key ingredient is "sushi rice", also referred to as shari (しゃり), or sumeshi (酢飯)."
Reading time: 5 Minutes
Author: Lucas Payá
Date: 02/10/2023
Category: Pairings
Who has not seen or tasted sushi, yet do you know what is sushi? Its popularity has exploded in recent years and is even now found at dedicated grocery areas.
Wikipedia sums it up best: "Sushi (すし, 寿司, 鮨, 鮓, pronounced [sɯɕiꜜ] or [sɯꜜɕi] i) is a Japanese dish of prepared vinegared rice (鮨飯, sushi-meshi), usually with some sugar and salt, accompanied by a variety of ingredients (ねた, neta), such as seafood—often raw—and vegetables. Styles of sushi and its presentation vary widely, but the one key ingredient is "sushi rice", also referred to as shari (しゃり), or sumeshi (酢飯)."

<strong>Tiempo de lectura:</strong> 5 Minutes<strong>Author:</strong> Steven Dragun<strong>Date:</strong> 10/02/2023<strong>Category:</strong> Pairings

PAIRING: LUSTAU 3 EN RAMA MANZANILLA DE SANLÚCAR
Full Ingredients list
4 cups wáter.
2 cups uncooked white rice.
½ cup seasoned rice vinegar.
1 teaspoon white sugar.
1 teaspoon salt.
¼ pound cooked crab meat, drained of excess liquid and shredded.
1 tablespoon mayonnaise.
5 sheets nori (dry seaweed).
1 avocado, sliced.
¼ cup red caviar, such as tobiko.
1 English cucumber, seeded and sliced into strips.
2 tablespoons drained pickled ginger, for garnish.
2 tablespoons soy sauce, or to taste.
1 tablespoon wasabi paste.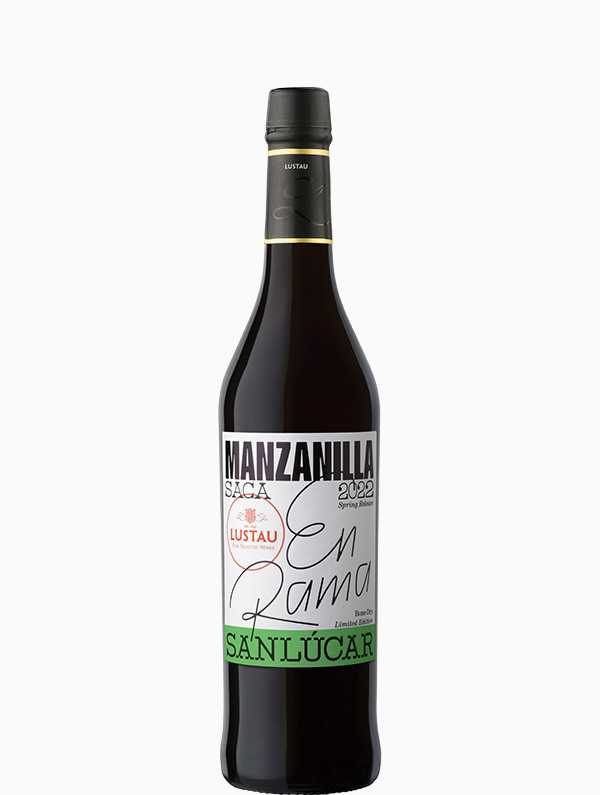 The rice is the star and what chefs train for years to perfect skills. Sushi rice is typically made using the local variety of rice Japonica; in particular, the Koshihikari cultivar. Japonica is medium-grained rice with somewhat rounded grains and a distinct high content of natural starches (amylopectin). This extra starch causes it to cook up rather sticky, making it easier to eat with chopsticks, ideal for 'molding' it together to shape the sushi.
Modern sushi may be simplified into two large categories, nigiri and maki.
Nigiri sushi is comprised of an oval-shaped mound of rice with a slice of fish or seafood on top. The fish or seafood is usually raw, sometimes fermented and also occasionally, such as with eel or shrimp, cooked. The word nigiri in Japanese translates approximately to "grip" in English. Thus, the Japanese word nigiri-zushi translates roughly as "hand-pressed" sushi. The point is that with nigiri sushi, the rice is molded by hand and the fish or other topping is pressed by hand atop the rice. At times the chef will include a bit of wasabi between the fish and rice. The stickiness of the rice, along with the moisture from the topping, helps to adhere the strip of raw fish to the mound of rice underneath. Typical options of raw fish on nigiri sushi include tuna, salmon, and yellowtail. Fatty tuna, which comes from the belly section of bluefin tuna, is another popular topping. Garnishes include minced scallions or ginger.
Maki, on the other hand, is the type of sushi where the rice and fish are rolled in a sheet of dried seaweed called nori. There are several main types of maki. Maki-zushi is shaped like a cylinder, consisting of a sheet of nori rolled around a layer of rice and fillings, which can include ingredients such as raw fish, cooked shellfish, vegetables, and even cream cheese. The rolled cylinder or tube is then sliced into individual bite-sized sections. When the roll is constructed inside out, it is known as ura-maki, literally an inside-out roll. With ura-maki, the rice is on the outside and the seaweed and fillings are on the inside. Like nigiri, maki is also best eaten by hand.
Maki-zushi is further classified into thin rolls, or hoso-maki, and thick rolls, or futo-maki. There's even a variant on maki called gunkan-maki, which is also known as "battleship rolls" because they're shaped a bit like battleships. They are sort of a cross between nigiri and maki in that there's a base of rice molded by hand, a strip of nori then goes around that, forming a kind of receptacle to hold in toppings – that won't stay on by themselves – such as fish roe, finely chopped raw fish, or vegetables like sweet corn kernels in a mayonnaise dressing.
Regardless of the art of detail, traditional Japanese sushi is famous for its simplicity – usually comprising nothing but rice, fish, and nori, along with some seasoning.
As if you were in the Ginza district in Tokyo, the US also has some note-worthy coast-to-coast sushi restaurants, from California to the Northeast with numerous remarkable establishments in principal areas of the country. Hawaii too!
WHAT MAKES MANZANILLA THE BEST WINE TO PAIR WITH SUSHI?
Typically, a sushi meal is accompanied by Japanese beer and/or sake, pronounced as "sah-keh," not "sah-key." Since we are all about sherry, and it goes excellently paired to sushi, this entire article would be amiss if we do not offer sherry choices for you. Fino or manzanilla (man-tha-nee-aa) styles, with their light body and briny salinity, are a match made in heaven for seafood selections, and give a more intense flavor. For example, with Uni, or sea urchin, essentially the foie gras of the ocean (smooth, mildly nutty, and briny without being overtly fishy), the salinity factor is the key here.
Uni Sushi
In the category of gunkan-maki we have one of the most unusual forms of sushi, namely, uni sushi. Uni is the sex organs of the sea urchins. It's shaped a little bit like tongues, and it has a sweet flavor and slightly sticky consistency. Because of the intense labor involved in harvesting the uni, this type of sushi can be quite expensive. But for those who love it, it's worth every penny. The key to uni is that it should be firm and dry. If it seems moist, it's probably not fresh. The brininess in these wines complement the natural salinity of uni, creating a beautiful synergy that enhances the overall flavor profile of the dish.
BEST MANZANILLA TO PAIR WITH SUSHI: MANZANILLA 3 EN RAMA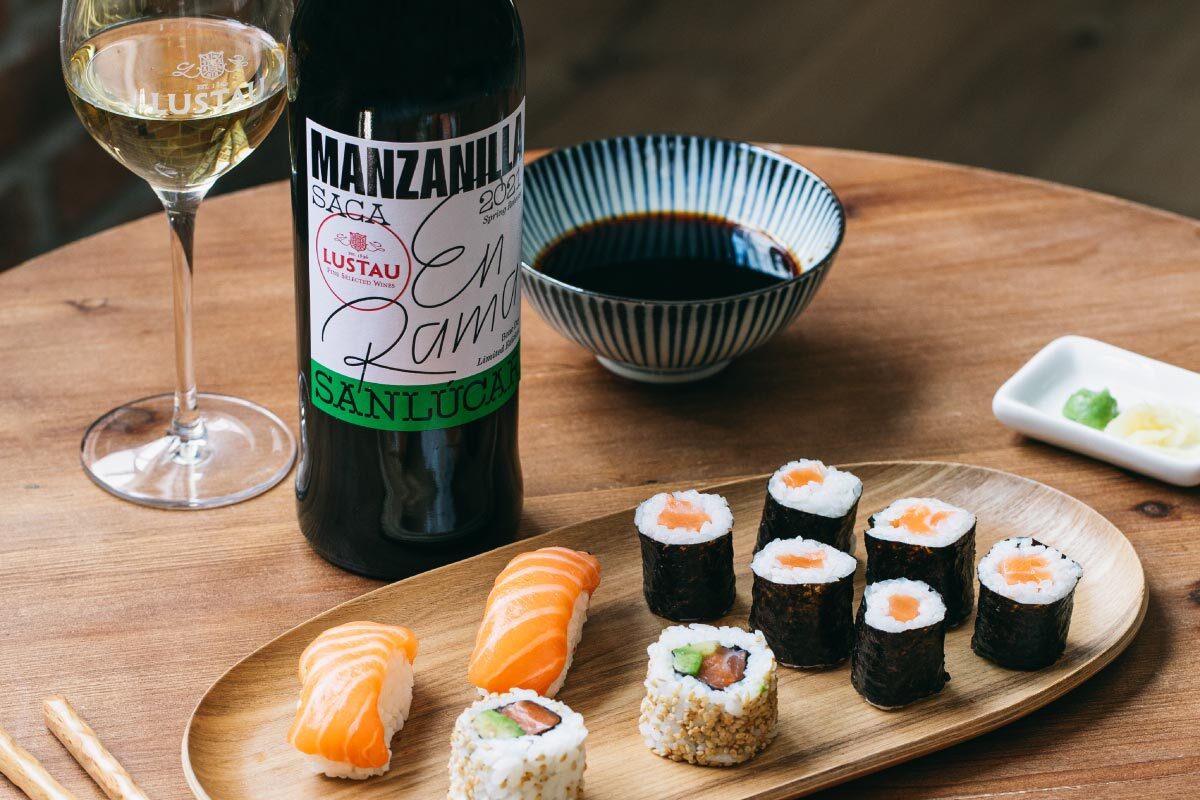 Manzanilla's unique character is marked by its crispness and saline qualities, which make it the ideal partner for sushi. Options are vast, from the fresh, tender texture of raw fish to maki rolls teeming with ingredients. Its acidity and pungent personality serves as a palate cleanser, cutting through the richness of the fish and preventing it from becoming overwhelming. This balance ensures that each bite of sushi remains fresh and delightful. The salty nuances of Lustau 3 en Rama Manzanilla de Sanlúcar mirror the umami-rich soy sauce generally used, creating a symphony of flavors on the palate.
But this manzanilla sherry boasts subtle almond undertones too, which add depth to the combination. These nutty hints cfomplement the toasted sesame seeds often found in sushi rolls, creating a delightful harmony of earthy notes.
The experience of enjoying Lustau 3 en Rama Manzanilla de Sanlúcar with sushi transcends cultural boundaries.
STEPS TO PREPARE SUSHI – HOW TO PREPARE SUSHI AT HOME
1. Gather all ingredients.
2. Wrap a sushi rolling mat completely in plastic wrap and set aside.
3. Bring water and rice to a boil in a saucepan over high heat. Reduce heat to medium-low, cover, and simmer until rice is tender and liquid has been absorbed, 20 to 25 minutes. Transfer rice to a bowl and cut in vinegar using a rice paddle or wooden spoon. Season with sugar and salt. Allow to cool to room temperature, about 30 minutes.
4. Combine crab meat with mayonnaise in a small bowl.
5. Place nori sheet on a flat work surface. Spread a thin layer of rice on top of nori.
6. Place nori, rice side down, on the prepared rolling mat. Place 2 to 3 avocado slices on top of the nori in one layer.
7. Top with 2 to 3 tablespoons of the crab mixture.
8. Spoon 1 to 2 teaspoons tobiko lengthwise on one side of the avocado-crab mixture, and 2 cucumber strips on the other side.
9. Using the mat as a guide, carefully roll the California roll into a tight log. Remove the rolling mat. Top roll with more tobiko, cover with plastic wrap, and gently press the tobiko into the top of the roll.
10. Remove the plastic and cut into 6 even pieces using a wet knife. Repeat with remaining sheets of nori and filling. Serve garnished with pickled ginger, soy sauce, and wasabi paste.
Making at home sushi requires practice, a fun learning experience, and one that can be enjoyed with friends. There are many videos on Youtube that will guide you in the art and practice of creating delicious recipes and best for a visual training. These are some that stood out, from our friends at Epicurious:
and perfect your sushi rice making from Chef Morimoto at Munchies: