Due to the immense success this cocktail has had, The Cosmopolitan has solidified its place in the cocktail pantheon of revered, new-age classics. Like most cocktails, The Cosmopolitan has slowly evolved over time to become what we all know and love today. The first written reference of The Cosmopolitan cocktail can be found in Harry McElhone's book Barflies and Cocktails (1927). This recipe is far from what we are drinking today but is an important starting point for the cocktail's evolution. In 1934, The Cosmopolitan popped up again in the book Pioneers of Mixing at Elite Bars, and although it is still different from the modern recipe, this version of the Cosmopolitan shares many similarities and could be the inspiration for what we are drinking today. In the 1980's, The Cosmopolitan recipe began to solidify, and in doing so, the drink became immensely popular. The Cosmo became so well known that it was the cocktail of choice on the hit HBO show Sex in the City, which ushered in its status as a post-prohibition classic. Our take on The Cosmopolitan recipe utilizes Fino Sherry in conjunction with Citrus Vodka, which adds a nice layer of complexity while lowering the overall alcohol content, creating a lovely libation that you will surely order more than once.
Reading time: 3 Minutes
Author: Steven Dragun
Date: 08/05/2023
Category: Cocktails
It's that time of year again, when the cold starts to break and warmer weather gradually begins to grace us with its presence.As the seasons change, we often seek out and welcome food and drink that reflects our surroundings.When things start to heat up, our desire for beverages that quench our thirst and cool us off grows exponentially with the increase in temperature.In a world filled with slushies and punches, there is one classic cocktail that has been helping us usher in Spring and Summer for centuries: Sangria

<strong>Tiempo de lectura:</strong> 6 Minutos<strong>Autor:</strong> Steven Dragun<strong>Fecha:</strong> 03/24/2023<strong>Categoría:</strong> Cócteles

COCKTAIL: COSMOPOLITAN
Full Ingredients list
.75oz Lustau Fino Jarana Sherry

.75oz Ketel One Citron Vodka

.5oz Cointreau

1oz Cranberry Juice

.25oz Lime Juice

Garnish: Orange Twist
Recipe author: Steven Dragun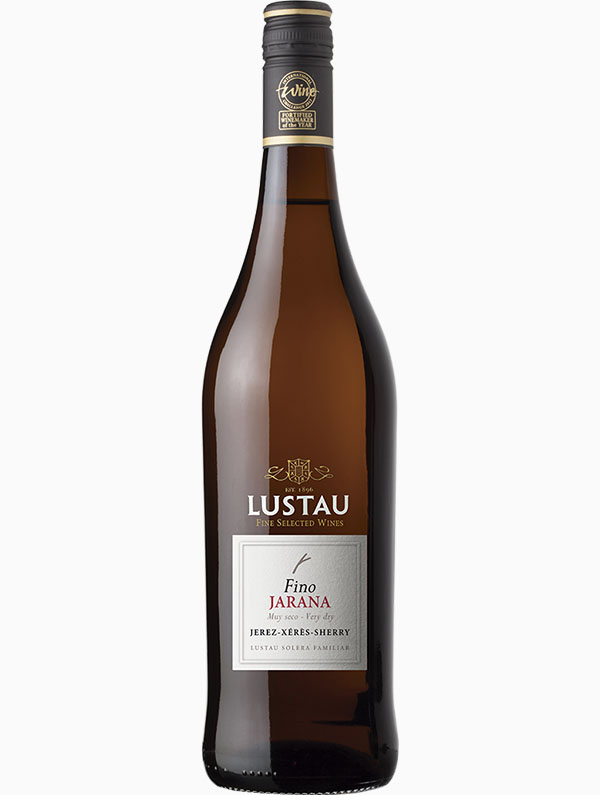 WHO INVENTED THE COSMOPOLITAN?
Like most classic cocktails, there are many people who have claimed they created The Cosmopolitan that we are drinking today. However, there are two people who are responsible for its popularity. Toby Cecchini, owner of Long Island Bar in Brooklyn, NY, is credited with the creation of the modern-day recipe. He moved from San Francisco to NYC in the 1980's and was introduced to a terrible cocktail that he reformulated to create The Cosmopolitan recipe we are using today. However, it is King Cocktail himself, Dale Degroff, who is attributed to the rise and popularity of this drink. While working at The Rainbow Room in Manhattan, NY, Dale made countless Cosmo's during his stead, which eventually lead to an article featuring him serving Madonna his rendition of The Cosmopolitan. The rest, as they say, is history.
WHAT IS THE BEST TYPE OF VODKA TO DRINK WITH A COSMOPOLITAN?
Any type of citrus vodka will work best in a Cosmopolitan cocktail.
WHY FINO JARANA IS THE BEST SHERRY FOR A COSMOPOLITAN COCKTAIL?
We chose Lustau's Fino Jarana to work in conjunction with the citrus vodka due to its clean, subtle, and salty profile. Since the Fino Jarana is from Jerez, this biologically aged wine isn't as funky as its counterparts from El Puetro de Santa Maria and Sanlucar de Barrameda, which allows for a better synergy with the other flavors found in The Cosmo.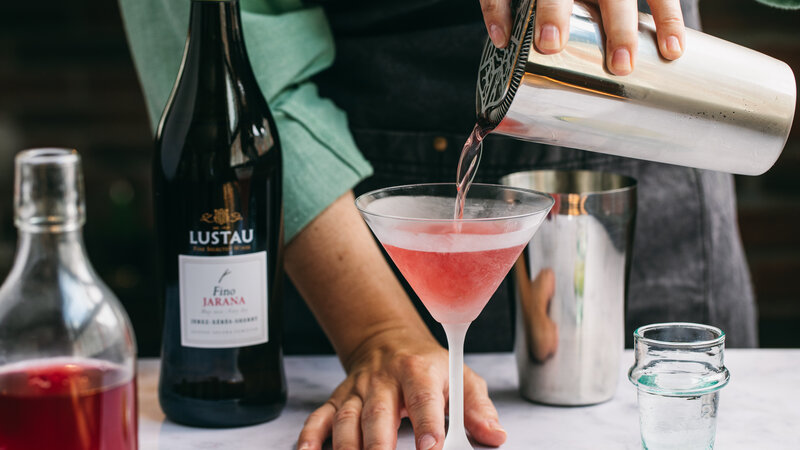 HOW TO PREPARE A COSMOPOLITAN COCKTAIL WITH SHERRY IN 3 EASY STEPS
Add all ingredients to a mixing tin

Add ice, shake, and strain into a chilled Martini glass

Express orange oil, and garnish with an Orange Twist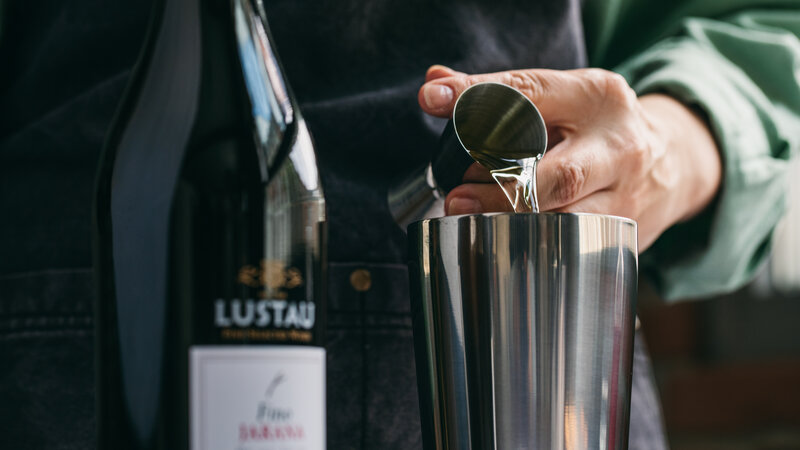 COSMOPOLITAN WITH SHERRY VARIATIONS
Sevilla Cosmopolitan
.75oz Lustau Manzanilla Papirusa Sherry

.75oz Tanqueray Sevilla Orange Gin

.5oz Cointreau

1oz Cranberry Juice

.25oz Lime Juice

Garnish: Lemon Twist
FAQ
Why is Fino the best sherry for a cosmopolitan cocktail?
Fino is best with a Cosmo because the flavor profile compliments the citrus vodka very nicely due to its clean and subtle nature.
How much alcohol does a cosmopolitan cocktail have?
The classic Cosmopolitan cocktail is around 25%ABV.