Out of the many classic cocktails we all enjoy, the Daiquiri is perhaps one of the most beloved. This simple and refreshing cocktail speaks to a wide audience, and over the years has seen countless variations and adaptations. The history of the Daiquiri takes us back to Cuba in 1898. After the battle of San Juan Hill, America sent a group of miners, led by Stockton Cox, to work in the iron-ore mines located in the Sierra Mountains. The miners received great salaries to work in these mines, and on top of that, generous rations of tobacco and Bacardi Carta Blanca rum. From here, the actual invention of the Daiquiri gets a little hazy. One account entails a meeting between Cox and an engineer named Pagliuchi. They were surveying the mines together and made cocktails with the only ingredients they had on hand: rum, lime, and sugar.
Another story comes from Cox's granddaughter, who said her father ran out of gin while entertaining some guests and felt apprehensive about serving them straight rum. Instead, he decided to add lime and sugar and low-and-behold, the Daiquiri was born. The drink became so popular amongst the Americans they decided to name it after the Daiquiri mines they were working in. Our recipe for the Daiquiri adds dry sherry to the mix, which gives the cocktail a more modern and savory approach to this iconic drink.
Reading time: 2 Minutes
Author: Steven Dragun
Date: 08/05/2023
Category: Cocktails
It's that time of year again, when the cold starts to break and warmer weather gradually begins to grace us with its presence.As the seasons change, we often seek out and welcome food and drink that reflects our surroundings.When things start to heat up, our desire for beverages that quench our thirst and cool us off grows exponentially with the increase in temperature.In a world filled with slushies and punches, there is one classic cocktail that has been helping us usher in Spring and Summer for centuries: Sangria

<strong>Tiempo de lectura:</strong> 6 Minutos<strong>Autor:</strong> Steven Dragun<strong>Fecha:</strong> 03/24/2023<strong>Categoría:</strong> Cócteles

COCKTAIL: DAIQUIRI
Full Ingredients list
1oz Lustau Fino del Puerto Sherry
1oz Bacardi Carta Blanca Rum
.75oz Lime Juice
.50oz Lustau Pedro Ximénez San Emilio
Garnish: Lime Wheel
Recipe author: Steven Dragun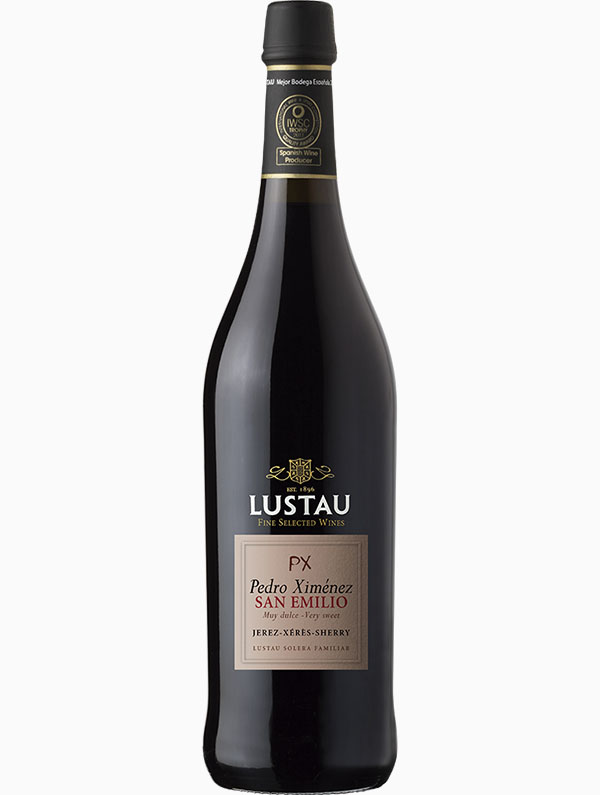 WHICH SHERRY IS BEST FOR A DAIQUIRI MIXED DRINK?
Any dry, biological sherry will work well with our interpretation on the Daiquiri to combine with lots of white rums. Pedro ximénez sherry, however can make a great substitution for the simple syrup, adding some extra layers of texture and complexity.
Which rum is best for a daiquiri cocktail?
The original recipe calls for Bacardi Carta Blanca, but any white rum will do just fine.
ABOUT LUSTAU FINO DEL PUERTO
We decided to choose Lustau Fino del Puerto, as it has a good amount of salinity and funk, which really transforms the cocktail in a delightful way and Lustau Pedro Ximénez San Emilio to add an even more Cuban touch to the cocktail.
DAIQUIRI WITH SHERRY COCKTAIL RECIPE
Add all ingredients to a cocktail shaker
Add ice, shake, and strain into a chilled Coupe glass
Garnish the drink with a lime wheel
DAIQUIRI VARIATIONS AND TYPES
Daiquiri with Sherry and Havana Club rum
1oz Lustau Amontillado Los Arcos Sherry
1oz Havana Club Anjeo Especial Rum
.75oz Lime Juice
.75oz Demerera Syrup
Garnish: Lime Wheel
Frozen Daiquiri with pedro ximénez sherry
2oz Plantation 3 Star Rum
.75oz Lime Juice
.75oz Lustau PX San Emilio Sherry
Garnish: Orange Slice
FAQ
What is the best rum for a sherry daiquiri?
Any White Rum will work just fine.
Who invented the Daiquiri?
Stockton Cox invented the Daiquiri
What sherry is best for a Daiquiri cocktail?
Fino or manzanilla sherry work best in our recipe, but feel free to experiment with the other dry sherries as well.