Winter has a long tradition of bringing friends and family together to celebrate the close of the year and to prepare for the next. This time of year always ignites a desire for a hot cocktail to help one get through the bitter cold nights of winter. Of the many staples in the hot cocktail repertoire, none has a fabled a history as mulled wine.
Reading time: 3 Minutes
Author: Steven Dragun
Date: 08/05/2023
Category: Cocktails
It's that time of year again, when the cold starts to break and warmer weather gradually begins to grace us with its presence.As the seasons change, we often seek out and welcome food and drink that reflects our surroundings.When things start to heat up, our desire for beverages that quench our thirst and cool us off grows exponentially with the increase in temperature.In a world filled with slushies and punches, there is one classic cocktail that has been helping us usher in Spring and Summer for centuries: Sangria

<strong>Tiempo de lectura:</strong> 6 Minutos<strong>Autor:</strong> Steven Dragun<strong>Fecha:</strong> 03/24/2023<strong>Categoría:</strong> Cócteles

COCKTAIL: MULLED WINE
Full Ingredients list
24oz of Lustau Capataz Andres Deluxe Cream Sherry
1 orange
6 cloves
6 all spice berries
1 cinnamon stick
1 vanilla pod
1 nutmeg, for garnish
Recipe author: Steven Dragun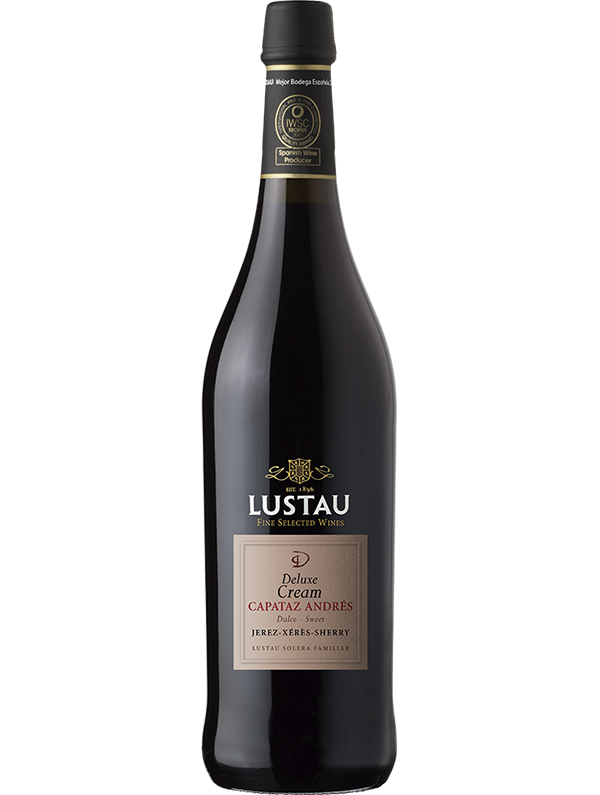 WHAT IS A MULLED WINE COCKTAIL?
Mulled wine dates back to the time of the Greeks and is said to have been invented by Hippocrates. The drink known as "hippocras" was created by using a gallon of red or white wine, two pounds of sugar, and spiced with cinnamon, clove, ginger, pepper, and mace. The Romans continued the mulled wine tradition and by the second century AD, recipes for "conditum paradoxum" could be found in the earliest Roman cookbooks. For both the Greeks and the Romans, mulled wine was a way of using leftover or bad wine and was conceived as a tonic more than a Christmas cocktail. Mulled wine continued to flourish during the Middle Ages as the wines from this era were not of the best quality. However, our modern interpretation of mulled wine really comes from the Victorian era in England, with the most notable example coming from Charles Dickens' "A Christmas Carol."
We are going to stray a little from the norm and offer you a lovely Sherry Mulled Wine for you to share with your loved ones this holiday season.
Which rum is best for a daiquiri cocktail?
The original recipe calls for Bacardi Carta Blanca, but any white rum will do just fine.
BEST SHERRY FOR A MULLED WINE IS: LUSTAU CAPATAZ ANDRÉS DELUXE CREAM
Any rich cream sherry will work best in our mulled wine recipe as it has the right flavor profile and will save you from having to add sugar to the recipe. Lustau Capataz Andrés Deluxe Cream will work perfectly in this recipe thanks to its great balance, character, and finesse. Despite of crafting a hot wine cocktail we are including some Brandy de Jerez Solera Gran Reserva too. Brandy de Jerez will provide deep layers of flavor, texture and aroma to this cocktail, thanks to its interaction with the spices, orange and the cream sherry wine.
Our Lustau Brandy de Jerez Solera Gran Reserva is for ten years in the Solera System in a selection of American oak casks that have been aging oloroso. Its concentrated tobacco leaves, roasted coffee and walnut aromas will lovely match with our Deluxe Cream and enhance the peppery nuances of the overall cocktail flavor.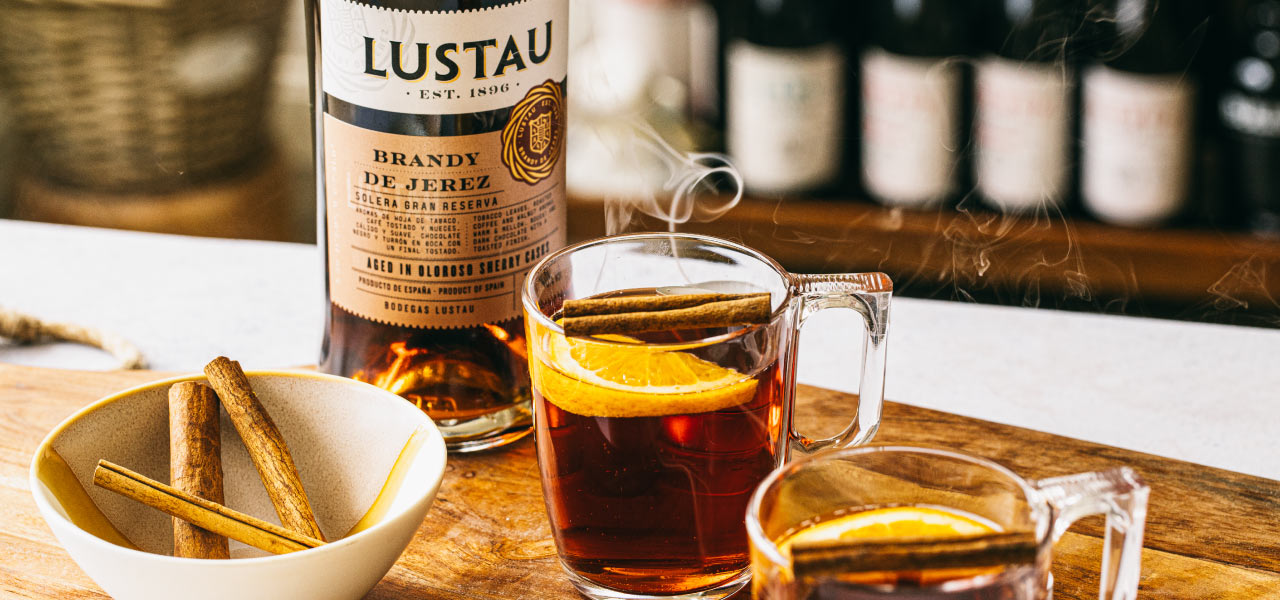 MULLED WINE RECIPE
Peel and juice the orange
Add Sherry and brandy to a large saucepan on medium heat.
Add spices, orange peel and orange juice to the saucepan
Once wine is hot, reduce heat to low and let simmer for 30min or until desired taste is reached
Strain mulled wine through a mesh strainer and serve into a coffee cup
Grate nutmeg and add a cinnamon stick and an orange wedge over coffee cup to garnish.
SHERRY MULLED WINE VARIATION
Apple Cinnamon Sherry Mulled Wine
16oz of Lustau Manzanilla Papirusa Sherry
8oz Lustau Moscatel Emilin Sherry
2oz Lustau Brandy Solera Reserva Brandy
2 apples
6 cloves
6 all spice berries
1 cinnamon stick
1 star anise
5 cinnamon sticks, 4 for garnish
Honey-Sherry Mulled Wine
24oz of Lustau Amontillado Los Arcos Sherry
2oz Lustau Brandy Solera Reserva Brandy
1/2 cup of honey
1 apple
1 orange
6 cloves
6 all spice berries
1 cinnamon stick
5 star anise, 4 for ganish
FAQ
When is the best time to drink a mulled wine cocktail?
When the weather is cold
Who invented the mulled wine?
Hippocrates invented the first mulled wine
When was the mulled wine invented?
During the times of ancient Greece
Where is the mulled wine mostly consumed?
Europe is most known for mulled wine, with Germany being a top consumer
What sherry is best for a mulled wine?
Any cream sherry will work best for a mulled wine.