As is becoming our custom, we celebrate along with some of the National festivities on the calendar. November 3rd happened to be Sandwich Day, so here you have four great ones to devour next to a glass of sherry. The first one will be widely eaten in a few days, the second is a timeless classic and the two last are from our friends Katie and Felix from Ashville, NC (recipe by Chef Matt Brown). By the way, they deliver a phenomenal selection of Spanish-flavored foods out of their Cúrate at Home.
Reading time: 4 Minutes
Author: Lucas Payá
Date: 08/05/2023
Category: Pairings
It's that time of year again, when the cold starts to break and warmer weather gradually begins to grace us with its presence.As the seasons change, we often seek out and welcome food and drink that reflects our surroundings.When things start to heat up, our desire for beverages that quench our thirst and cool us off grows exponentially with the increase in temperature.In a world filled with slushies and punches, there is one classic cocktail that has been helping us usher in Spring and Summer for centuries: Sangria

<strong>Tiempo de lectura:</strong> 6 Minutos<strong>Autor:</strong> Steven Dragun<strong>Fecha:</strong> 03/24/2023<strong>Categoría:</strong> Cócteles

<h2 style="font-weight: 200;">CÓCTEL: SHERRYSANGRIA</h2>

<h3><span style="font-size: 100%;">Lista de Ingredientes</span></h3><ul><li>2 oz <a href="https://lustau.es/nuestra-coleccion/vermut/">Lustau Blanco Vermut</a></li><li>1 oz Albariño</li><li>.5oz Mathilde Peche Liqueur</li><li>.5oz Passionfruit Puree</li><li>.5oz Orange Juice</li><li>.75oz Club Soda</li><li>Garnish: Raspberries, Lemon Slices, Rosemary Sprig</li></ul>

<strong>Autor de la receta:</strong> Steven Dragun<strong> Perfil de sabor</strong>: test estsets<strong>Momento de consumo:</strong> test estsets

BEST SHERRY TO PAIR WITH SANDWICHES
As always, the diversity of styles coming out of the region will prove very helpful when pairing the most varied collection of sandwiches. Focus on the major ingredients between the two loaves and follow your gut! Possibly, lighter components will pair better with lighter wines like finos and manzanillas, bold and savory with olorosos, and don't forget sweeter sherries like creams for your sweet mid-afternoon snacks.
THANKSGIVING LEFTOVER SANDWICH RECIPE & WINE PAIRING – BEST SHERRY WITH THANKSGIVING LEFTOVER SANDWICH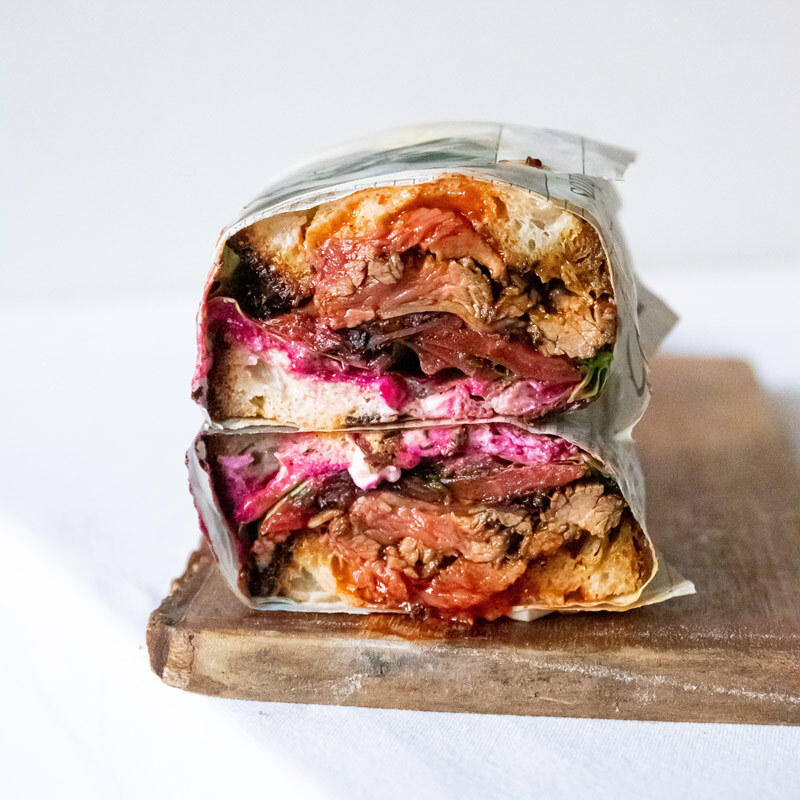 Thanksgiving leftover sandwich origins and history
We featured this same recipe around this time last year. This sandwich is probably as old as the Thanksgiving tradition! At the end of the day, who doesn't have leftovers after such a feast? The Thanksgiving leftovers sandwich has taken many forms in the hands of different magazines, chefs, and family traditions – so the possibilities are endless! 
Thanksgiving leftover sandwich recipe and ingredients
Sourdough sandwich bread, sliced
Turkey breast
Dijon mustard
Mayonnaise
Stuffing
Cranberry sauce
Gravy
Mashed potatoes
Salt and pepper
Romaine lettuce
Spread the condiments on the first slice of bread, and then start building! 
Palo Cortado Península: best sherry for the Thanksgiving leftover sandwich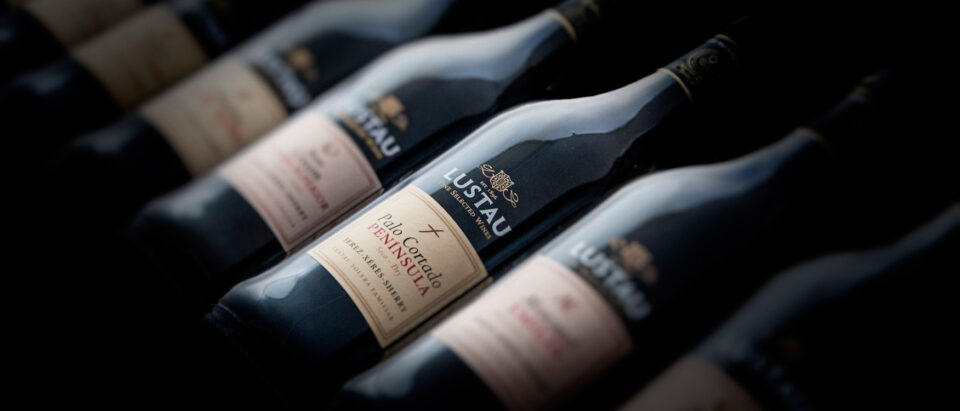 Again, based on the final ingredients you may pull out of your fridge on the following day, you might end up with a particular sandwich profile or another. Go easy on the cranberry sauce or you may want to consider pairing a sweet sherry! For nicely 'balanced' Thanksgiving leftover sandwiches, I think a wine like Palo Cortado Península would be fantastic.
BLT RECIPE & WINE PAIRING – BEST SHERRY WITH BLT SANDWICH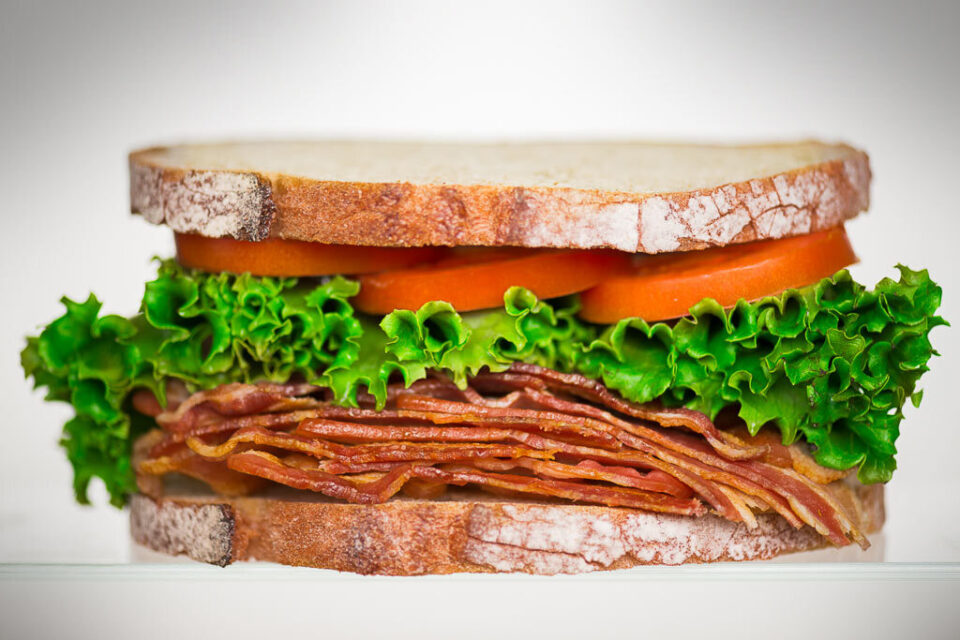 BLT origins and history
The BLT became popular after World War II because of the rapid expansion of supermarkets, which allowed ingredients to be available year-round. Referencing the sandwich by its initials rather than naming the ingredients in full did not become common until the 1970s.
BLT recipe and ingredients
4 slices of bacon
2 leaves of lettuce
2 slices of tomato
2 slices of bread, toasted
1 tablespoon mayonnaise
Cook the bacon in a large, deep skillet over medium-high heat until evenly browned, about 10 minutes. Drain the bacon slices on a paper towel-lined plate. Arrange the cooked bacon, lettuce, and tomato on one slice of bread. Spread one side of the remaining bread with the mayonnaise.
Amontillado Escuadrilla best sherry for the BLT
As we have said many times, pork screams for sherry. It is difficult to make this sandwich not taste good even with a broader lineup of (dry) sherries. Although, I am going to suggest Amontillado Escuadrilla this time. Enjoy!
CRISPY RED SHRIMP SANDWICH RECIPE & WINE PAIRING (BOCADILLO DE GAMBAS FRITAS)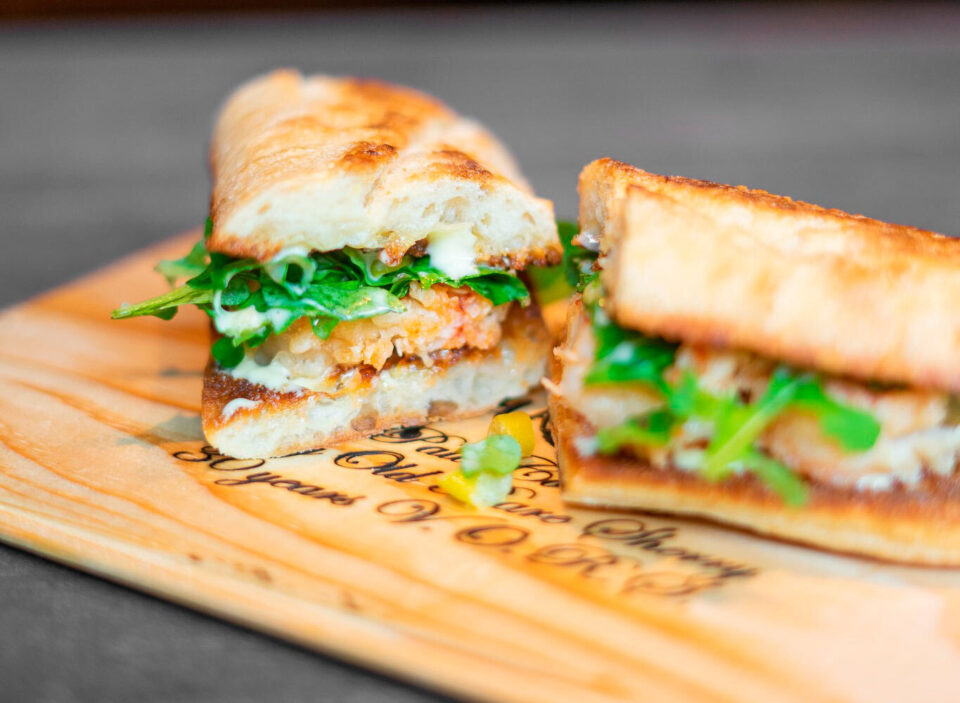 RECIPE BY LA BODEGA BY CÚRATE, Asheville, NC
Crispy red shrimp sandwich origins and history
In Felix's words: "Madrid meets New Orleans, a fusion between Madrid's famous bocadillo de calamares (fried calamari sandwich with mayonnaise) and a shrimp Po'Boy".
Crispy red shrimp sandwich recipe and ingredients
¼ lb Royal Red shrimp
½ cup milk
1 egg, beaten
1 teaspoon salt
1 7-inch baguette, cut in half lengthwise and brushed with oil
2 tablespoons pickled piparra peppers, roughly chopped
1 lemon wedge
2 tablespoons allioli
Salt
½ cup arugula
Remove shrimp from milk and egg mixture. Cover in flour dredge and allow to sit for one minute. Meanwhile, toast your bread in a hot pan or under a broiler. Once the bread is toasted, fry the shrimp in the 375 F oil. This should take about 3 minutes. The outside should be crispy with a very light tan color. Season with salt and a squeeze of lemon juice. Spread allioli on each side of the baguette. Sprinkle chopped pickled peppers on one side and arugula on the other. Arrange the shrimp evenly. Press the sides of the sandwich together and cut in half.
Lustau fino del puerto: best sherry for the Crispy red shrimp sandwich
I have not had the opportunity to taste Cúrate's bocadillo de gambas fritas yet, but I bet it will taste magnificent with a glass of Lustau's Fino del Puerto. Anyone?
IBERIAN PORK HAMBURGER RECIPE & WINE PAIRING
RECIPE BY LA BODEGA BY CÚRATE, Asheville, NC
Iberian pork hamburger origins and history
How do you make something taste better? You add Iberian pork to it, it is that simple. If you like hamburgers, can you imagine adding the taste of the best ibérico ham to it? This sandwich offers tons of rich, flavorful goodness. You will just need a matching glass of sherry to be in heaven.
Iberian pork hamburger recipe and ingredients
3.8 oz beef (about 75 % lean)
.95 oz Cinco Jotas pork shoulder steak
Sliced ibérico lardo
Confit piquillos– 1 pepper/burger
Sauteed mushrooms with fino sherry
Caramelized onions
Allioli
1 soft burger bun
Brush the cut side of your bun with olive oil and prepare a broiler. Heat a heavy pan, such as a cast-iron skillet, over medium-high heat. Remove the burger from the refrigerator and season each side with a pinch of kosher salt and a crack or two of freshly ground black pepper. Sear on each side for 3 minutes. Meanwhile, toast your bun under the broiler and lightly warm your onion, mushroom, and piquillo pepper in the same pan you used for the burger. Top the burger with the slice of lardo. Top with the peppers, onions, and mushrooms and warm for one minute under the broiler. Spread a teaspoon of allioli on each side of the bun. Assemble the burger.
Oloroso Don Nuño: best sherry for the Iberian pork hamburger
This is amazing with oloroso Don Nuño. The interaction between the ibérico flavor and the wine is a given, plus the caramelized onions and the lardo are all the extra strength that the best olorosos require. This is an easy one.