Whether you're preparing appetizers for a family gathering, birthday party, or summer party, finger food should be festive and fun. However, many popular American finger foods are rather heavy, deep fried, made of filling pastry, somewhat cheesy, built on bread, and/or accompanied by thick sauces. So, how about an airy-feeling salad that you can eat out of your hand instead? Today's recipe could possibly be some of the healthiest preparations out there, light and refreshing, perfect for the hottest months of the year, and glorious with a chilled glass of fino sherry! Both cucumbers and avocados are among the super-healthy ingredients of the world; Avocados are different from most other fruits because they contain lots of healthy fat.
They are high in several important nutrients, many of which are lacking in modern diets, including potassium, magnesium, vitamins B6, C and E, and folate. Cucumbers are low in calories and with a high water content. Eating cucumber may help lower blood sugar, prevent constipation, and support weight loss. To maximize cucumber's health benefits eat the peel, too!
Reading time: 2  Minutes
Author: Lucas Payá
Date: 29/08/2023
Category: Pairings
It's that time of year again, when the cold starts to break and warmer weather gradually begins to grace us with its presence.As the seasons change, we often seek out and welcome food and drink that reflects our surroundings.When things start to heat up, our desire for beverages that quench our thirst and cool us off grows exponentially with the increase in temperature.In a world filled with slushies and punches, there is one classic cocktail that has been helping us usher in Spring and Summer for centuries: Sangria

<strong>Tiempo de lectura:</strong> 6 Minutos<strong>Autor:</strong> Steven Dragun<strong>Fecha:</strong> 03/24/2023<strong>Categoría:</strong> Cócteles

PAIRING: LUSTAU FINO JARANA
Full Ingredients list
Juice from 1/2 lime
2 tbs. rice bran or canola oil
1 tbs. rice vinegar
1/2 tsp. Dijon mustard
1/2 tsp. soy sauce
1 tsp. brown sugar
2 Haas avocados
20 rice paper rounds, 6 or 8 inches in diameter
10 green lettuce leaves
Leaves from 1 bunch of fresh basil
Leaves from 1 bunch of fresh min
2 carrots, coarsely shredded
1/2 English cucumber, cut into thin strips.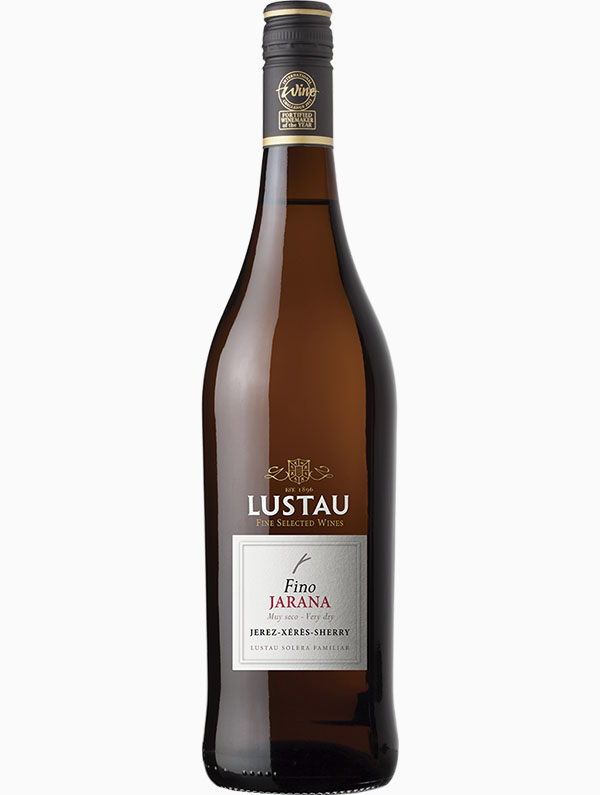 WHY FINO IS THE BEST WINE TO PAIR WITH AVOCADO ROLLS & CUCUMBER
Fino is one of the signatures of the region, a wine of a unique profile, only produced in the magical environment of the sherry bodegas in Jerez, Spain. As soon as the wine is put in cask (casks are not filled all the way, leaving an extensive contact surface), a thin layer of the local Flor yeast starts to cover the wine protecting it from the effects of the oxygen for its entire aging process, and over time, dramatically transforming both their aromatic and taste qualities.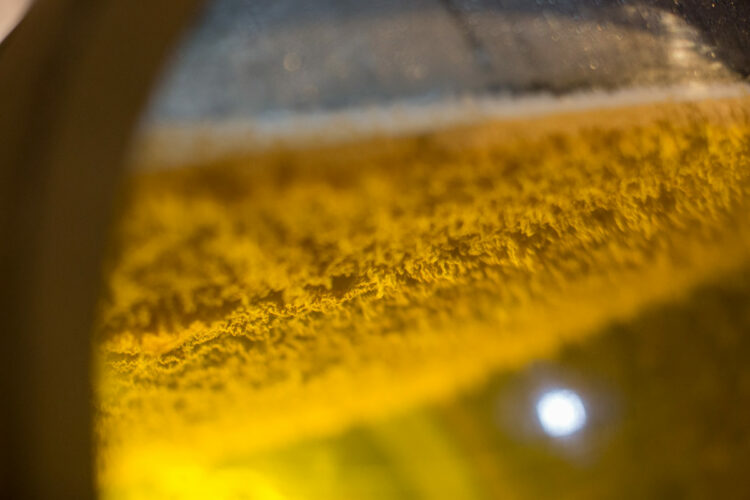 These are some ideal wines to start a meal with; compared to other styles, they are light, savory, ultra-dry, and perfect to wake your appetite. Their specific profile makes them supreme options to enjoy with all sorts of appetizers, and they are particularly successful with salty and/or vinegary dishes like salads *.
*Please note the sauce in this recipe is key in determining the final taste of the dish, therefore affecting the pairing. Yet, it can be easily tweaked at will by switching out ingredients and adjusting measurements. Have fun!
BEST FINO TO PAIR WITH CUCUMBER AVOCADO ROLLS
Lustau Fino Jarana is a staple from this iconic brand and a textbook expression of a fino from Jerez. Its pungent character with nutty and bakery notes along with its dry and crisp palate are terrific with the crunchy and rich texture and piquant flavor of this green, bite-size appetizer.
HOW TO PREPARE CUCUMBER AVOCADO ROLLS AT HOME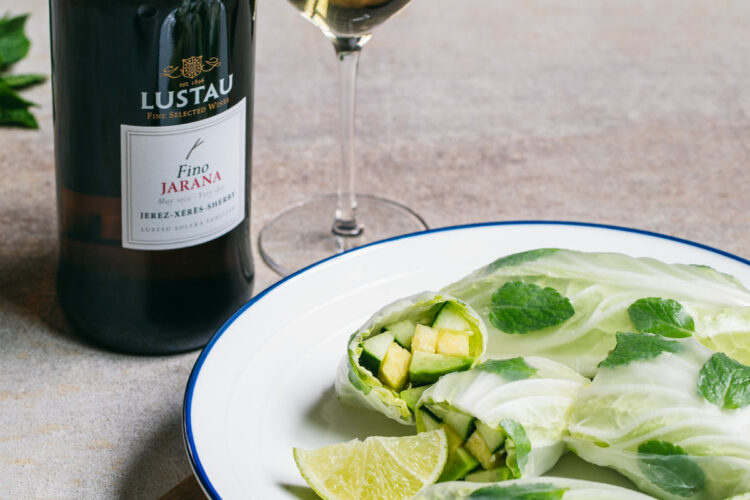 Directions:
1. In a small bowl, stir together the lime juice, oil, vinegar, mustard, soy sauce, and brown sugar until the sugar dissolves; set aside.
2. Halve, pit, and peel the avocados, and then cut them into 1/2-inch dice.
3. Place a wide, shallow bowl of warm water on a work surface. Lay a clean kitchen towel next to the bowl. Dip 1 rice paper round into the water for a few seconds to soften, then lay it flat on the towel. Dip a second round into the water and lay it directly on top of the first one. Using another towel, pat the top of the rice paper dry.
4. Center a lettuce leaf on top of the stacked rice papers. Starting about one-third in from the edge closest to you, arrange a few of the basil and mint leaves in a line across the lettuce. Top with a small row each of the carrot, cucumber, and avocado; be careful not to overstuff the roll. Lift the bottom edge of the rice paper up and over the filling and then roll once fold. Fold in the sides of the rice paper and continue to roll the paper and filling into a tight cylinder. Set aside, seam side down. Repeat with the remaining rice paper and filling ingredients to make 10 rolls.
5. Cut each roll in half crosswise and arrange, cut side up, on a platter. Place the sauce alongside for dipping and serve immediately. Makes 20 rolls; serves 8 to 10.