The Buck family of cocktails originated during Prohibition, with the creation of the Gin Buck. Like the Collins and the Fizz, the Buck is a tall cocktail with citrus and ginger beer or ginger ale. It wasn't until much later that the most famous Buck, the legendary Moscow Mule, came to fruition. The unofficial story is in the early 1940's, friends John Martin and Jack Morgan met at Chatham Bar in NYC to catch up over drinks. Martin had recently acquired the rights to Smirnoff Vodka for Heublein, a Connecticut based distributor of food and liquor, and Morgan had his own brand of ginger beer, which wasn't selling so well at the time. They decided to mix their products together, and with an added squeeze of lime, the Moscow Mule was born. Another alleged story is the Moscow Mule was created by Wes Price, the bartender of the famous Cock'n Bull Saloon on Sunset Strip, which was owned by Jack Morgan. Regardless of which story is true, the drink took off and stood out in a crowd thanks to its signature copper mug with a kicking mule engraved on it. Our sherry Moscow Mule adds some manzanilla to the recipe, which gives this simple and tasty classic a crisp and salty finish.
Reading time: 2.5 Minutes
Author: Steven Dragun
Date: 29/08/2023
Category: Cocktails
It's that time of year again, when the cold starts to break and warmer weather gradually begins to grace us with its presence.As the seasons change, we often seek out and welcome food and drink that reflects our surroundings.When things start to heat up, our desire for beverages that quench our thirst and cool us off grows exponentially with the increase in temperature.In a world filled with slushies and punches, there is one classic cocktail that has been helping us usher in Spring and Summer for centuries: Sangria

<strong>Tiempo de lectura:</strong> 6 Minutos<strong>Autor:</strong> Steven Dragun<strong>Fecha:</strong> 03/24/2023<strong>Categoría:</strong> Cócteles

COCKTAIL: MOSCOW MULE
Full Ingredients list
1oz Lustau Manzanilla Papirusa
1oz Beluga Noble Vodka
6oz Fever Tree Ginger Beer
.5oz Lime Juice
Garnish: Lime Wheel
Recipe author: Steven Dragun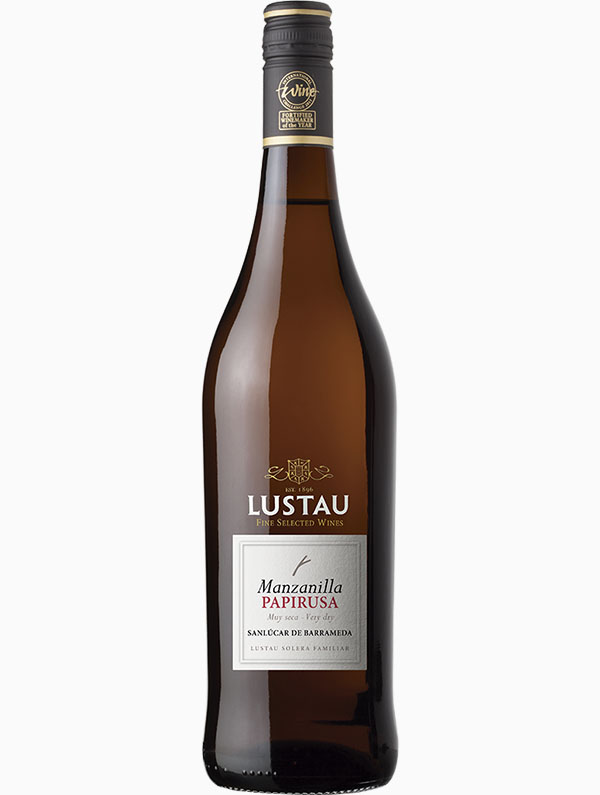 WHO INVENTED THE MOSCOW MULE?
The Moscow Mule was invented by either John Martin and Jack Morgan or Wes Price. Unfortunately, neither party can prove they made the drink, so its origin cannot be fully established.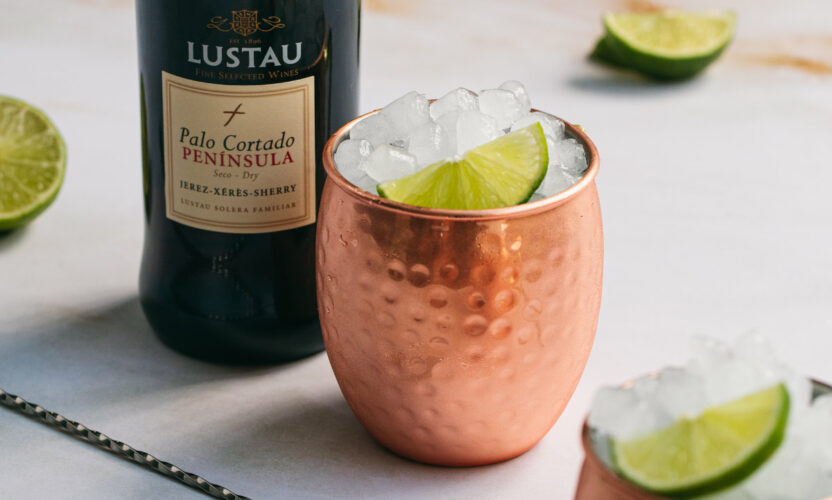 WHY IS THE MOSCOW MULE SERVED IN A COPPER GLASS?
One of Jack Morgan's female friends owned a failing copper factory that made the signature mugs. The Moscow Mule's success single-handedly saved her business.
WHY IS IT CALLED A MOSCOW MULE?
The name is a reference to the two main ingredients, vodka, and ginger beer. All drinks that contain ginger beer are called a Buck, which is akin to a mule. Moscow is a reference to Russia, where Smirnoff Vodka was made.
WHICH SHERRY IS THE BEST TO USE IN A MOSCOW MULE?
Since we are mixing with vodka, any biologically aged sherry will work. Vodka is a clean and neutral spirit, so we chose Lustau Manzanilla Papirusa due to its delicate and crisp nature, along with its high level of salinity, which accentuates the flavor of the ginger beer.
For our palo cortado variation, we wanted to showcase a riff on a classic Kentucky Buck. Some people prefer brown spirits in their cocktails, so we created this variation with them in mind. The Lustau Palo Cortado Peninsula is quite rich in flavor, with a subtle nuttiness accompanied by dark fruited notes. When paired with the Buffalo Trace Bourbon, our Kentucky Buck variation has just enough depth and complexity to stand out from the classic recipe, while retaining all the familiar flavors one is looking for in this cocktail.
HOW TO PREPARE A SIMPLE MOSCOW MULE WITH SHERRY COCKTAIL
1. Add sherry, vodka, and lime Juice to a copper mug and stir.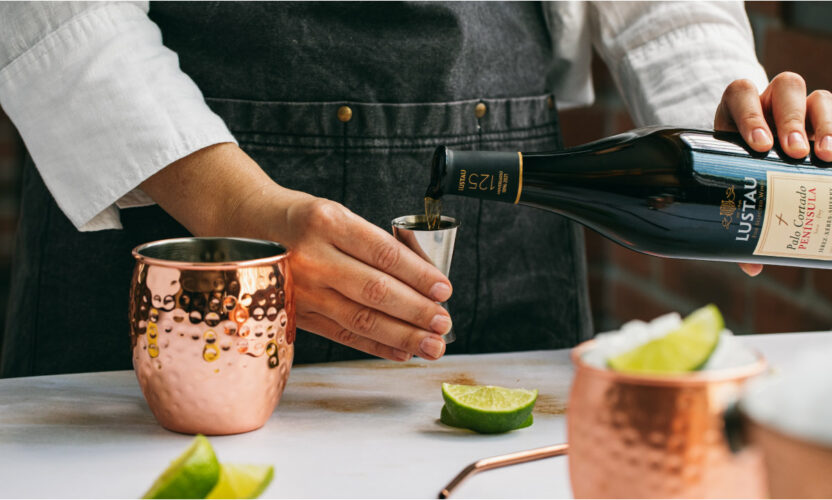 2. Add ice and top off with ginger beer.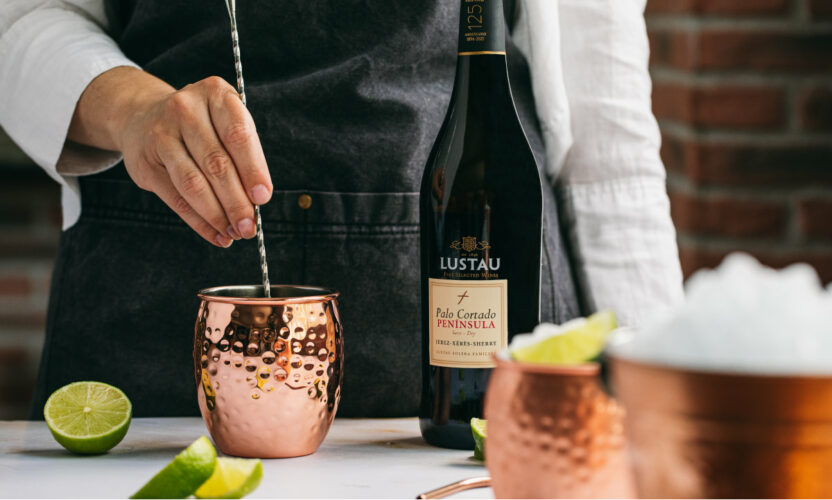 3. Garnish with a lime wheel.
Palo Cortado Variation
1oz Lustau Palo Cortado Peninsula

1oz Buffalo Trace Bourbon

6oz Bundaberg Ginger Beer

.5oz Lime Juice

Garnish: Lime Wheel
FAQ
What is the best type of vodka for a Moscow Mule?
The original vodka used was Smirnoff, but any unflavoured vodka of your choice will do.
Why do Moscow mules have to be in a copper mug?
The copper mug is great for keeping the drink very cold, which slows down dilution. However, the copper mug was initially chosen to help Jack Morgan's friend, who owned a Copper Factory.
Does Moscow Mule use ginger ale or ginger beer?
The Moscow Mule was created with ginger beer, but ginger ale is an acceptable substitution.