The Sour cocktail has been a very popular drink since the early to mid-19th century. It is a derivative of the classic Punch cocktail and has endless variations to fit any drinker's desires. The first known recipe of the Sour (Any spirit, lemon juice, sugar, soda water) comes from Jerry Thomas' The Bartenders Guide (1862) and is described as a variation of a Fix cocktail. Although both gin and brandy were listed in The Bartenders Guide, whiskey quickly became the spirit of choice when making a Sour and is still the case today. A very popular variation of a traditional Sour is the Boston Sour. This variation has the same recipe but adds egg white to make the drink a bit smoother. The Boston Sour was first published in William Schmidt's The Flowering Bowl (1892) and quickly became the preferred recipe as the egg white helped tame the harsh bootleg spirits of the time. Nowadays, the presence or absence of egg white is about an even split depending on where you live or what kind of establishment you are drinking at. Our take on this beloved classic utilizes dry, oxidative sherry as it is a great substitution for whiskey and provides an extremely smooth and lush drinking experience when incorporated with an egg white.
Reading time: 3 Minutes
Author: Steven Dragun
Date: 08/05/2023
Category: Cocktails
It's that time of year again, when the cold starts to break and warmer weather gradually begins to grace us with its presence.As the seasons change, we often seek out and welcome food and drink that reflects our surroundings.When things start to heat up, our desire for beverages that quench our thirst and cool us off grows exponentially with the increase in temperature.In a world filled with slushies and punches, there is one classic cocktail that has been helping us usher in Spring and Summer for centuries: Sangria

<strong>Tiempo de lectura:</strong> 6 Minutos<strong>Autor:</strong> Steven Dragun<strong>Fecha:</strong> 03/24/2023<strong>Categoría:</strong> Cócteles

COCKTAIL: SHERRY SOUR
Full Ingredients list
2oz Lustau Don Nuño Oloroso Sherry
.75oz Lemon Juice
.75oz Simple Syrup (1:1 sugar to water)
1 Egg White
Garnish: Orange Twist (discarded) and Maraschino Cherry
Chilled Coupe Glass
Recipe author: Steven Dragun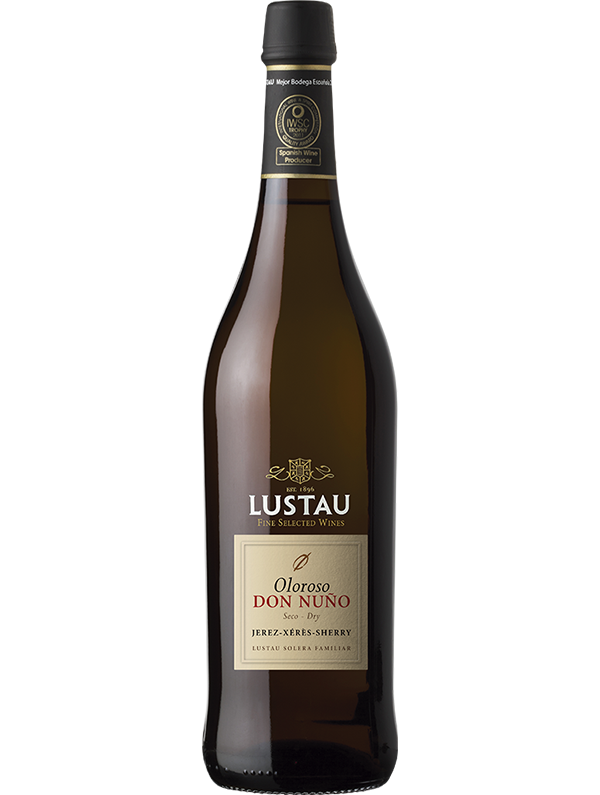 WHICH SHERRY IS BEST FOR A SHERRY SOUR
Since we chose to mimic a Whiskey Sour, we decided to use oloroso sherry as the abv is higher than other sherry styles which allows the big and bold flavors to shine through. However, this could work nicely with any of the other dry sherry style (such as amontillado or palo cortado) depending on what you're looking for, so feel free to experiment and find what is right for you.
ABOUT LUSTAU DON NUÑO OLOROSO
For our Sherry Sour, we selected Lustau's Don Nuño Oloroso as it is very round and smooth in character, which aids in the overall balance and lushness of the drink. At 12 years of age and 20% abv, the Don Nuño is showcased nicely as it provides the right amount of richness to stand up to the egg white.
SHERRY SOUR COCKTAIL RECIPE
Add all ingredients to a shaking tin and shake vigorously (without ice) until the egg white is emulsified.
Add ice to the tin, and shake again
Double Strain into a chilled Coupe Glass
Zest orange oil over the cocktail and garnish with a Maraschino Cherry
TIPS FOR SHERRY SOUR COCKTAIL
Since this drink can be made with or without an egg white, try it both ways to see what you prefer. If you do decide on using egg white, try the drink up in the coupe glass or over ice in an old-fashioned glass. They are both equally tasty but provide different drinking experiences, so see which is best for you.
SHERRY SOUR VARIATIONS AND TYPES
Sherry Sour with Vodka
1.5oz Lustau Fino Jarana Sherry
.5oz Vodka
.75oz Lemon Juice
.75oz Simple Syrup (1:1)
Garnish: Orange Slice & Maraschino Cherry
Serve over ice in an old-fashioned glass
Brandy Sour
2oz Lustau Brandy Solera Reserva
.75oz Lemon Juice
.75oz Simple Syrup (1:1)
1 Egg White
Garnish: Maraschino Cherry
Serve up in a chilled Coupe Glass
Palo Cortado Sherry Sour
2oz Lustau Palo Cortado Peninsula Sherry
.75oz Lemon Juice
.5oz Lustau PX San Emilio Sherry
1 Egg White
Garnish: Star Anise
Serve up in a chilled Coupe Glass
FAQ
What's in a Sherry sour cocktail?
The ingredients are dry sherry wine, lemon juice, sugar, and an egg white if you prefer.
How much alcohol does a sherry sour cocktail have?
The ABV will fluctuate depending on which Sherry you use and if you decide to use an egg white or not, but will be somewhere between 7-10% ABV
What's the best sherry for a sherry sour cocktail?
It depends on what flavor profile you are looking for. If you're a dark spirits fan, try a dry and oxidative sherry. If you're a vodka or gin drinker, try one of the dry and biological wines.