Today is the day that we get to focus on the conversation that so often makes us excited, sherry and food – lots of food – and as varied and extensive as you wish. An entire, long menu. Can you imagine celebrating New Year's dinner with only wines from Jerez? If you call yourself a sherry lover, we can't think of a better way to start off a promising 2023. Shall we?
Reading time: 7 Minutes
Date: 08/05/2023
Category: Blog
It's that time of year again, when the cold starts to break and warmer weather gradually begins to grace us with its presence.As the seasons change, we often seek out and welcome food and drink that reflects our surroundings.When things start to heat up, our desire for beverages that quench our thirst and cool us off grows exponentially with the increase in temperature.In a world filled with slushies and punches, there is one classic cocktail that has been helping us usher in Spring and Summer for centuries: Sangria

<strong>Tiempo de lectura:</strong> 6 Minutos<strong>Autor:</strong> Steven Dragun<strong>Fecha:</strong> 03/24/2023<strong>Categoría:</strong> Cócteles

First, let's try to give it some perspective: those who have invested some of their year's savings will be aware of the market recession we have been submerged in lately, which will likely roll deep into 2023. In this uncertain scenario, would you put all your eggs in the same basket, or would you rather diversify your assets? Diversification reduces volatility, correct? On the other hand, how would you stay financially healthy when everything around you is becoming more expensive by the hour? Diversification and value are the names of the game. Sherry wines vastly exceed these two factors offering plenty of quality options at a relatively inexpensive price.
Back to the subject, sherries (and any great wine for that matter) ideally enjoyed in good company and with fine food. Some may lean toward the thought that sherry must be paired with food to show its best. Personally, I am not keen on the idea of a wine for dining versus one suited just for sipping, but I strongly support that sherry's multiple layers of flavor come alive when paired with food. Similarly, sherries oftentimes magnify the flavor of food – an example of this could be noticed when marrying a subtle fish gently cooked (steamed) with a fino, the wine will perform like adding salt to the dish. Thus, we could say you win both ways.
Although pretty much nothing in food and wine pairing should be set in stone, here is one suggested [safe] approach to these wines: finos and manzanillas are well-regarded as phenomenal aperitifs. They can be treated much like white wines – savory and lively, they will prepare the palate for more robust wines and richer dishes to follow (hold on a sec, I remember hugely savoring a medium-rare churrasco skirt-steak with chimichurri sauce with manzanilla pasada here) …Oh, please continue… amontillados, as pure intermediate styles and a broad category, should cover much in-between ground. The concentrated palo cortados and olorosos can replace any full-bodied red wine, so they may be best consumed later. Consider, though, that it all depends on the wines involved – some longer-aged or less filtered wines from supposedly lighter styles might more appropriately be served after a technically fuller wine that has been otherwise heavily filtered. Sweeter-content wines should be left to last. But that is just the point with sherry – we never cease to come across extraordinary, unexpected marriages. Founded on these basic principles (not the only possible principles), begin to mix, and match.
TYPE OF SHERRY WINES
Here are the 'generic' tasting notes for each of the most prominent types of sherry wines taken off the web of the Consejo Regulador (sherry.wine). Reading through them hopefully will give us a first glance at what they taste like and start to make us feel hungry!
Manzanilla: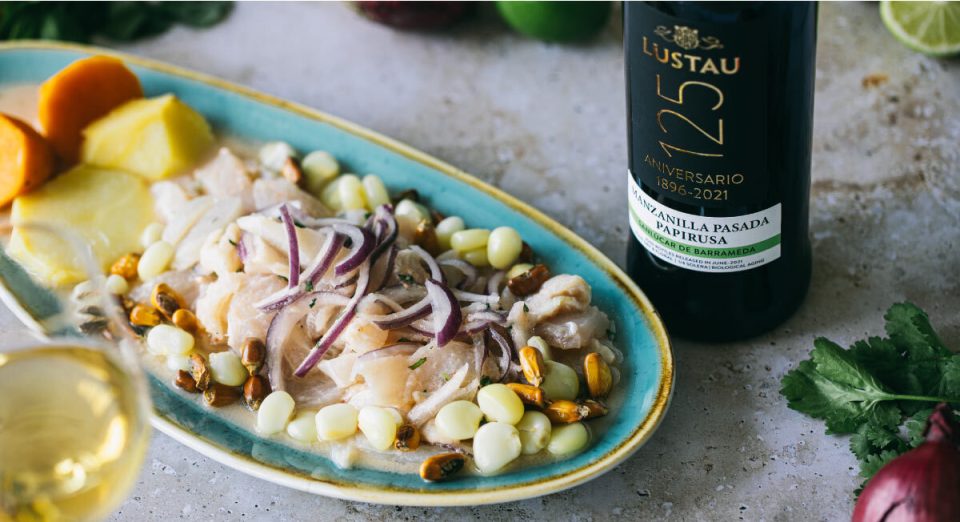 "A very bright, pale straw-colored wine. A sharp, delicate bouquet with predominant floral aromas reminiscent of chamomile, almonds, and dough. Dry, fresh, and delicate on the palate, light and smooth despite a dry finish. Light acidity produces a pleasant sensation of freshness and a lingering, slightly bitter aftertaste."
Fino: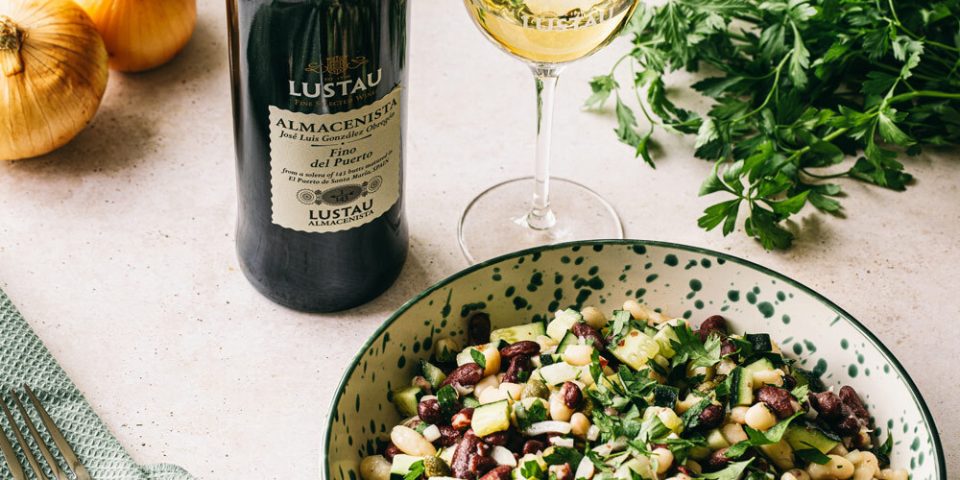 "Bright straw yellow to pale gold in color. A sharp, delicate bouquet slightly reminiscent of almonds with a hint of fresh dough and wild herbs. Light, dry, and delicate on the palate leaving a pleasant, fresh aftertaste of almonds."
Amontillado:
"Ranging from pale topaz to amber in color. Its subtle, delicate bouquet has an ethereal base smoothed by aromas of hazelnut and plants, reminiscent of aromatic herbs and dark tobacco. Light and smooth in the mouth with well-balanced acidity; both complex and evocative, giving way to a dry finish and lingering aftertaste with a hint of nuts and wood."
Palo Cortado: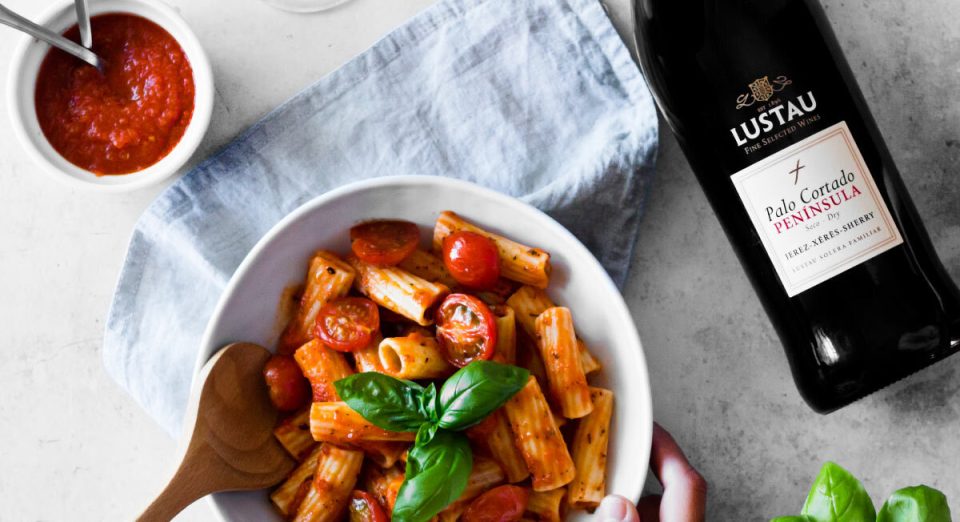 "Chestnut to mahogany in color with a complex bouquet that harmonizes the characteristic of Amontillados and Olorosos, citric notes reminiscent of bitter orange, and lactic notes suggestive of fermented butter. It has a deep, rounded, ample palate with smooth, delicate aromatic notes appearing in the aftertaste."
Oloroso: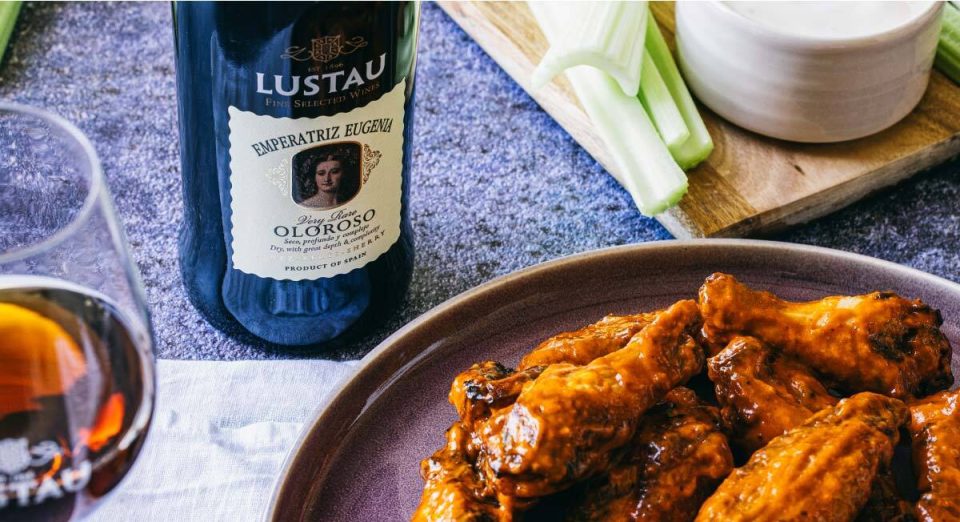 "Ranging from rich amber to deep mahogany in color, the darker the wine the longer it has been aged. Warm, rounded aromas which are both complex and powerful. Predominantly nutty bouquet (walnuts), with toasted, vegetable, and balsamic notes reminiscent of noble wood, golden tobacco, and autumn leaves. There are noticeable spicy, animal tones suggestive of truffles and leather. Full flavored and structured in the mouth. Powerful, well-rounded, and full-bodied. Smooth on the palate due to its glycerine content."
Cream: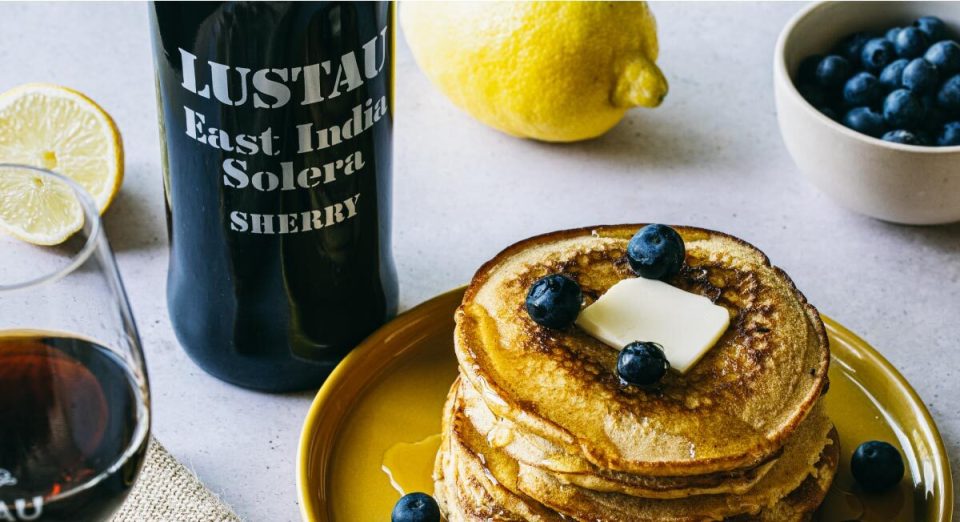 "Ranging from chestnut brown to dark mahogany in color this wine has a dense, syrupy appearance. A strong oloroso bouquet in the nose combines with a hint of sweetness reminiscent of roasted nuts, such as in nougat or caramel. Full-bodied and velvety in the mouth with a well-balanced sweetness."
Moscatel: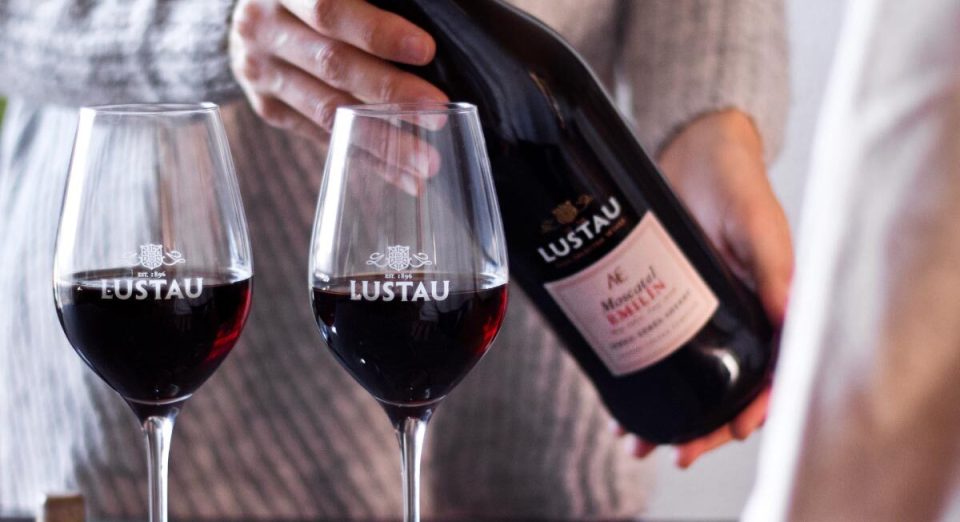 "Ranging from chestnut to intense mahogany in color, with a pronounced density and tearing. The characteristic varietal notes of muscatel grapes stand out in the nose with the presence of the floral aromas of jasmine, orange blossom, and honeysuckle in addition to citric notes of lime and grapefruit. It has a restrainedly sweet palate with predominant varietal and floral notes leading to a slightly dry, bitter finish."
Pedro Ximénez: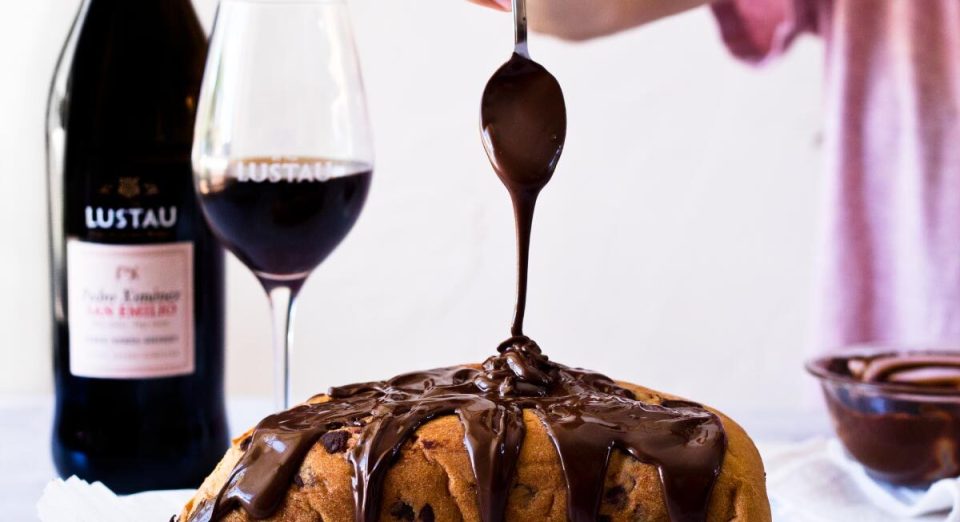 "A dark, ebony-colored wine with pronounced tearing and a thickness to the eye.
On the nose, its bouquet is extremely rich with predominantly sweet notes of dried fruits such as raisins, figs, and dates, accompanied by the aromas of honey, grape syrup, jam, and candied fruit, at the same time reminiscent of toasted coffee, dark chocolate, cocoa, and licorice. Velvety and syrupy in the mouth and yet with enough acidity to mitigate the extreme sweetness and warmth of the alcohol leading to a lingering, tasty finish."
WHY SHERRY WINES ARE THE PERFECT WINE FOR PAIRING
Wine and food pairing is a subjective exercise. It is also infinite. There are countless constituents in both wines and foods that may influence the taste of the food, as well as the impact of the food on the wine. Is any wine good with any dish? Probably not. Are some wines more food-friendly than others? Yes. What does a wine (or a region) need to possess to make it work most of the time? Versatility and food affinity, and quality (and purity*), among others.
As stated before, we always refer to the diversity of wines coming out of Jerez as the primary answer to endless food and wine pairing challenges. Of course, there is more than that – as we will try to break down below – but who doesn't agree that having many profiles to choose from is a big plus if you plan to drink from one single region through an assortment of ingredients and courses?
Numerous authorized industry voices say that the average quality of sherry wines is higher than ever, and we share that statement (you certainly need quality to produce intensity and finesse). Quality wines will typically facilitate attractive food and wine associations.
The diversity of the wines from Jerez may come from the multi-level fusion of the major compounds and elements found in them. Some of the most noteworthy are body (light to extremely full), sweetness/dryness (extremely low, or high), yeast contact (from very high to non-existent), glycerine (extremely low, or high), oxidation (also extremely low, or high), or volatile acidity (again, extremely low, or high). But, what characteristics of sherry wines make them extremely successful with a large variety of foods? Many of the tasting descriptors that are related to these wines are broadly considered contributors to versatility and food affinity. Often, we find dryness, yeastiness/creaminess, zestiness, umami, briny, lean palate, lack of fruitiness, freshness, lack of tannin, or light bitterness in biological wines. Then, add the savory oxidative hints and the smoky earthiness in darker dry sherries – all combined with a graceful balance between intensity and finesse. In the sweet styles the different sweetness levels, the complexity of aromas and taste, the balancing acidity, some bitterness, and the oxidative nuances, all help assemble the consonance. It seems sherry wines collect so many food-friendly components that, when chosen wisely, they will harmonize (or contrast) with any grades of fatness (texture), density, concentration, or intensity in the food.
WHY SHERRY WINES ARE THE PERFECT WINE FOR PAIRING
As a side note, on December 12th I had the tremendous privilege to judge at the 2022 US Copa Jerez contest taking place at the Institute of Culinary Education in NYC. The experience was delightful, as we got to appreciate the sublime food and wine combinations by three of the most acclaimed American restaurants from Denver, CO, Richmond, VA, and Chicago, IL. I was very pleased with many of the pairings that the three skillful teams served us, showing pronounced synergy and promoting dozens of interactions of great magnitude and refinement. It also reminded me of the importance of correctly assessing flavor intensity in wine and food. A few of the matches lacked harmony because the wines overpowered the dish (the exact opposite could also occur with the lightest styles of wines). Sherry wines can be some of the most intense wines in the world, a quality that is usually increased over time as they are aged in barrel. Older sherries can be so intense that the difference between sipping a drop and an ounce can be massive. In this instance, either suggesting an approximately appropriate amount of wine and food being put in one's mouth or increasing the vigor of the dish may be advisable.
Focusing again on these holidays, below are some off-the-top-of-our-heads food and sherry pairings we love (we have many more, just ask!):
If you like freshly shucked oysters this should be a no-brainer starter.
Have you tried it with true Jamón Ibérico de Bellota?
Roasted artichokes anyone?
Tuna tartar, yes!
How about pork ramen (with extra chashu)? Let us know!
Blue cheese is classic.
Fresh fruit pie is simply delicious.
With fireworks…
…wait! Did we just put together our next New Year's Eve menu?