Like many classic cocktails, the origins of the Classic Negroni cocktail lie in the history of another beloved beverage: The Americano. This delicious highball with Campari and sweet vermouth was a very popular cocktail at the end of the 19th century, but by the early 20th century, was slowly losing favor thanks to one man: Count Camilo Negroni. As a regular at the Casoni Bar in Florence Italy, Count Negroni was a frequent imbiber of the Americano. However, one day in 1919, Count Negroni needed something stronger and asked the bartender to give his Americano a little kick. Instead of using club soda, the bartender used gin instead, creating a spirit forward cocktail that quickly caught on with the locals.  It became so popular that people started ordering a "Count Negroni drink," and shortly thereafter, the cocktail officially became The Negroni. 
This equal parts cocktail of gin, Campari, and sweet vermouth has taken the world by storm over the last couple of decades and has since undergone many transformations and variations.  In our East India Negroni, we have decided to use rum instead of gin, and cream sherry instead of sweet vermouth, which creates a rich and delicate take on this beloved classic, creating the Negroni cocktail with rum and sherry
Reading time: 3 Minutes
Author: Steven Dragun
Date: 08/05/2023
Category: Cocktails
It's that time of year again, when the cold starts to break and warmer weather gradually begins to grace us with its presence.As the seasons change, we often seek out and welcome food and drink that reflects our surroundings.When things start to heat up, our desire for beverages that quench our thirst and cool us off grows exponentially with the increase in temperature.In a world filled with slushies and punches, there is one classic cocktail that has been helping us usher in Spring and Summer for centuries: Sangria

<strong>Tiempo de lectura:</strong> 6 Minutos<strong>Autor:</strong> Steven Dragun<strong>Fecha:</strong> 03/24/2023<strong>Categoría:</strong> Cócteles

COCKTAIL: EAST INDIA NEGORNI
Full Ingredients list
.75oz Lustau East India Solera Cream Sherry
2oz aged rum
.75oz Campari
Garnish: orange twist
Large ice cube
Glassware: Rocks glass
Recipe author: Steven Dragun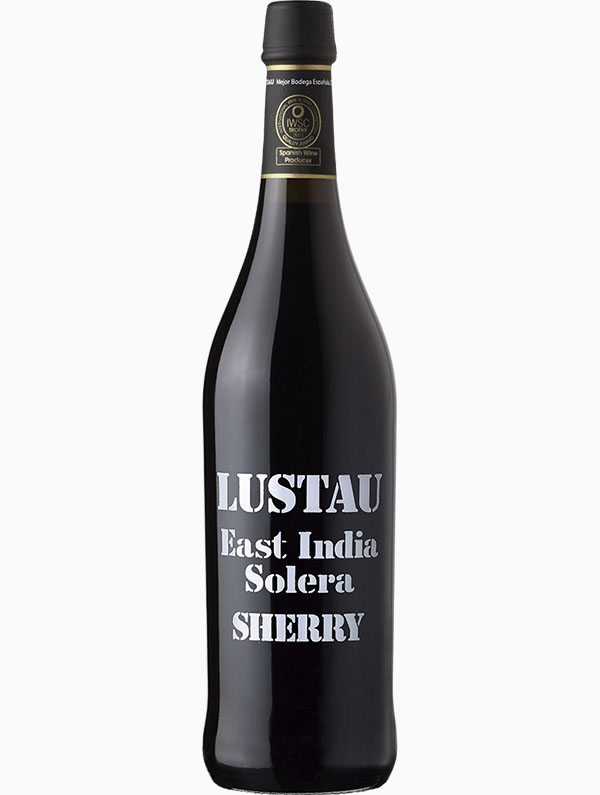 NEGRONI WITH SHERRY RECIPE – STEP BY STEP HOW TO PREPARE THIS SHERRY WITH RUM COCKTAIL
Add all ingredients to the rocks glass
Carefully lower the large cube into the rocks glass
stir for 30 seconds
Express orange oil over the cocktail
garnish with the orange twist.
Feel free to experiment with the proportions. Depending on which spirit you are using, you may want to add or subtract .25oz in order to find the balance you want.
EAST INDIA NEGRONI VARIATIONS AND TYPES
Negroni with gin & sherry variation
If you are looking for something closer to the original recipe you can easily make your classic Negroni with gin but keeping our East India Sherry:
1oz Lustau East India Solera Sherry
1oz London dry gin
1oz Campari
Garnish: Orange twist
Mezcal Negroni variation
This variation with Mezcal called the "Mezcal Negroni" is for those who love smoky cocktails or spirits. If you like mezcal, then try this classy and deep variation. The earthy and smoky profile of mezcal will go at its best with the nutty and fruity character of our East India, creating a perfect cocktail.
1oz Lustau East India Solera Sherry
1oz mezcal
1oz campari
Garnish: Grapefruit twist
Negroni with Aperol variation
Aperol is an amazing drink that fits perfectly to create a Mediterranean negroni. Just add your favorite Spanish gin and East India Solera Sherry.
.75oz Lustau East India Solera Sherry
1.25oz Spanish gin
1oz Aperol
Garnish: Grapefruit twist
Genever Negroni – Dutch Negroni cocktail with Genever and Sherry
Take Negroni cocktail to a more spiced, caramelly profile by using genever instead of a London dry gin. 
1oz Lustau East India Solera Sherry
1.25oz genever
.75oz Campari
Garnish: Orange twist
FAQ
What is the best gin for an East India Negroni cocktail?
London dry gin would be best as it is typically very juniper and citrus forward, which works well in tandem with the cream sherry and Campari
What is the best rum for an East India Negroni cocktail?
Any kind of aged rum will do. Some notable brands are Plantation, Hamilton, Appleton, and El Dorado.
What type of vermouth can I use for an East India Negroni?
None! We are substituting the vermouth for cream sherry, so no vermouth is needed. Just use Lustau East India Solera cream sherry for your East India Negroni cocktail.
What is the East India Negroni cocktails origin?
This negroni variation was created by Jim Meehan of PDT back in 2009
Can I add soda to my Negroni?
Of course! A little effervescence never killed anyone.
What can I use if I have no Campari?
Aperol, Cappalletti Aperitivo, Luxardo Bitter, or any other red aperitivo style liqueur.